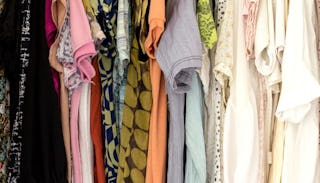 pinkomelet / Shutterstock
I try to abide by the suggested closet-cleaning rule to toss or donate clothes I haven't worn in a year. I haven't gone full-Marie Kondo, but I periodically sort through my wardrobe and pack up suit jackets and toss old T-shirts. As difficult as it is for this New England native, I even part with sweaters.
RELATED: Easy, Breezy, Beautiful White Graduation Dresses That'll Stand Out In A Crowd
Even my wedding dress got the treatment, sent to Goodwill after spending months in the trunk of my dad's car and years before that hanging in my parents' spare bedroom. I never gave it another look after I packed it up, petticoat, veil and all.
I loved my wedding, and I loved my dress. But I knew that I wouldn't cut it down into a christening gown, as my mom did to her dress for me, or pass it along to my daughter. (Something tells me the styles will have moved on from the strapless corset look a few decades from now.) I was happy—among the happiest I've ever been—in that dress, but I didn't need to keep it around to remind me of my wedding day. After all, I have enough reminders that surround me every day: my pictures, my ring, my husband.
It's been tougher to apply the one-year rule to some of the other dresses hanging in my closet. I haven't worn some of them in a decade, yet I can't bear to take them off their hangers.
1. My first for-real little black cocktail dress. When I needed a fancy dress in college and during those lean years after graduation, I grabbed an old reliable off the hanger: my senior prom dress. I am grateful that it was black and that it lacked bows and dyed-to-match shoes. (I can't say the same about the dress I wore a year earlier, to my junior prom.) A few years after I started my first job, though, I needed a dress for a work reception. I finally had the money to buy something new. That little black dress, with its bit of lace detail and silk-covered buttons, made me feel like I was finally an adult.
2. The dress that shows me how far I've come. We've all made fashion choices that fell, upon reflection, somewhat short of a fashion "do." One of my misses was the reversible dress that I bought to wear to my cousin's wedding in 2002. Two dresses in one! How could I go wrong? By buying a reversible dress, that's how. Reversible is a good feature for a windbreaker or a comforter, but not for a formal dress. I know better now. When I see that dress in my closet, I'm reminded that along the way I've learned a little about how to dress. Vogue's not knocking down my door, but at least I won't end up on the back page of a magazine with my eyes blacked out.
3. The worthy-of-a-vacation dress. It's a pink strapless number that I've worn to multiple weddings, at my own rehearsal dinner, and most memorably, on our Hawaiian honeymoon. I remember the beach-side restaurant on Kauai where I wore it. The beach mist has long since been dry cleaned out of it, yet a glance at the dress on the hanger brings the smell of the surf rushing back. Today, my dining wardrobe is geared more toward the 5 p.m. dinner at restaurants with kids' menus and crayons on the table. This dress isn't for those nights. It's a dress befitting cocktails and sunset. I'm keeping it for the trip back to Hawaii, whenever it comes.
4. The show dress. I loved everything about participating in the Washington, D.C., Listen to Your Mother show last year—except finding a stage-worthy dress that I could wear at 14 weeks pregnant. My dress criteria: a solid color other than black, not long, and accommodating of a rapidly swelling second-baby belly but not something that would make me look like delivery was imminent. This "simple" shopping task took multiple trips to the mall, many online returns, and a backup dress that I brought to the show just in case. The eyelet tank dress with a full skirt met all my criteria and boosted my confidence as I announced my pregnancy to an audience of 300 people. The bonus: Nearly a year postpartum, it still fits.
5. The dress I look damn good in. I've worn the deep raspberry silk dress among every possible combination of family and friends, and it's distinctive enough that I wouldn't usually repeat, but screw it. The dress looks good, and I've loved it from the minute I first put it on. We all should have at least one dress like this, and I'll keep wearing it until that feeling fades.
I don't have much time for scrapbooking these days, and it's been months since I've printed a picture. But with these dresses, no pictures are necessary. Seeing them in my closet keeps the memories alive.
This article was originally published on