Make it a Haaah-liday Weekend: 5 Ways to Step Up Your Sleep Game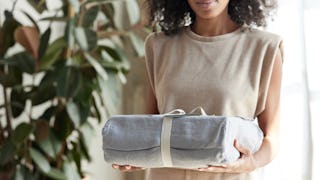 As we approach the eleventieth month of staying inside, we're all more exhausted than ever. Needless to say, this holiday weekend could not have come at a better time. But before you barricade your bedroom to try to catch up on rest, we've got some mom-approved sleep hacks that'll help you relax, recharge, and remember what waking up refreshed feels like. Until science and/or magic find a way to keep our kids from waking us up way too early, these are the next best thing.
Switch Up Your Sleep Gear
If your mattress is old enough to attend Zoom school, you need a new one. But getting a new mattress can be a pain in the neck (and back and legs) if you wind up sleeping on something uncomfortable. Thankfully, Avocado Green Mattress makes it easy to find a new mattress that doesn't make you choose between comfort, cost, and high-quality sleep products. Seriously. Both Avocado mattresses and bedding are made with sustainably sourced cotton, and their luxe, ultra-cozy organic materials help bring on the best kind of snoozes. Plus, the company went "carbon negative" in 2020, reducing their carbon footprint at every step of the mattress-making process. So, you can rest easy knowing you're getting something good for you, your family, and the environment.
Are you ready for the cherry on this dreamy sundae? They're currently on sale. Like, "hundreds of dollars off and free added goodies" on sale. Here are the deals Avocado is running until from now until Monday, February 22, 2021 (offers cannot be combined):
$200 off their Latex Mattresses and Luxe Crib Mattress with code FLAG200
$100 off Hybrid Mattresses with code GREEN100
If your love language is "free stuff," you'll want to use code 2FREEPILLOWS to get two free pillows with a Green or Vegan Mattress purchase.
Want to upgrade your entire bed set? Check out their Mid-Century Bed Frames which are currently $300 off and other select bed frames which are $150 off. Mini and Toddler mattresses are also included in select offers, so you can even get something for the kiddos. It's time you put poor quality sleep on a permanent timeout.
Essential Oils
What does your bedroom smell like? Unfolded laundry and dry shampoo? There's science that suggests aroma plays a bigger part in your sleep health than you might imagine, with scents like lavender and peppermint being linked to stress relief and better sleep. Treat yourself to an essential oil diffuser and stock up on smells that'll make going to bed feel like a mini trip to a sleep spa.
Wearing Socks To Bed
I know that some people find wearing socks to bed deeply unsettling—like pouring milk before the cereal or feeling nothing when you drink orange juice after brushing your teeth. However, some studies suggest wearing socks to bed can help with blood circulation and temperature regulation and, in turn, your quality of sleep. At the very least, your partner will be happy to not have to share a bed with your ice cold toes.
A Weighted Blanket For Your Eyes
Yes, weighted sleep masks exist and are the little luxury you absolutely deserve. A weighted sleep mask applies a soft pressure to your face which helps block out light and promotes relaxation and stress reduction. They're a great way to up your sleep hygiene whether you prefer to fall asleep in a super dark room or just can't keep yourself from staring at your phone.
5-Minute Meditations
Stop me if this sounds familiar: you turn on white noise machines, ambient light, and lullaby music for your kid and then tuck yourself in with hours of doom-scrolling. Help your brain and body unwind with a sleep meditation app that can help guide your breathing, settle your mind, and get you to sleep sooner. Even just a few minutes of meditation can help with everything from stress reduction to feeling more mentally balanced overall.
Whether you upgrade to an Avocado mattress, switch to their ultra-soft bedding, or just slip on a pair of comfy socks, here's to putting a little more "aaah" in your haaah-liday weekend.
Avocado Mattress makes certified organic mattresses with only the best materials. Shop their Presidents Day sale.
This article was originally published on