6-Year-Old Finds Loaded Gun In A Couch At IKEA And Fires It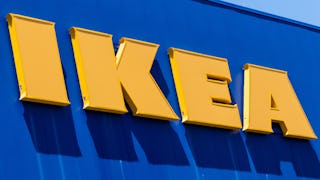 Image via Michael Brochstein/SOPA Images/LightRocket via Getty Images
Here's what happens when gun owners lack responsibility and don't follow the rules
A six-year-old child fired a gun in a Fishers, Indiana, IKEA after the boy and another six-year-old boy found the loaded weapon in one of the store's couches. Officials investigating the incident say that the gun was dropped on the sofa earlier in the day by another customer who was carrying the concealed firearm, but lost track of his gun.
The incident occurred when children in the store found a .380 caliber semi-automatic handgun in the sofa and one discharged the weapon — luckily, no one was hurt in the incident. Investigators quickly tracked down the man who owned the gun, 62-year-old Francis Wright. Sgt. Tom Weger with the Fishers Police Department told CNN that "a customer accidentally dropped the gun into a couch and when he got up, he didn't realize that the gun had fallen off of his person."
Uh, WHAT?
Sergeant Weger said that the man who dropped his gun is cooperating fully with police. He also reported that although the man had a permit to carry a concealed weapon, he was not being a responsible gun owner.
"We want to take this opportunity to tell people about responsible gun ownership," he said in a press conference. "You need to make sure if you're going to carry a firearm that you keep it under your control at all times."
However, Weger also noted that parents should make sure that their children know what to do when they find a firearm — you know, because six-year-olds should bear the burden of irresponsible gun ownership.
"We also want to take this opportunity to express upon kids how important it is to have a certain plan in place if they ever find a gun," he said. "We don't want them to touch it."
Here's a thought: maybe the fault should lie completely with the grown man who has taken it upon himself to carry around a loaded weapon to keep that weapon well away from children and to follow the rules of the property where he is shopping. It's also worth noting IKEA has a clearly stated no weapons policy.
IKEA released a statement regarding the incident that stressed its no weapons policy as well as the precautions it has in place to keep customers safe.
"We have processes in place to ensure that the store is safe for customers and co-workers. For example, our store team has regular safety walks and audits which happen before, during and after opening hours," the statement read. "In addition, Ikea has a no weapon policy in our locations to prevent exactly these types of situations. As soon as we were made aware of the situation, our co-workers took the action they were trained to do to ensure the safety of customers. We are cooperating with police as they investigate this incident."
The Hamilton County prosecutor's office responded by charging Wright with criminal recklessness — a minor felony.
This article was originally published on