8 Black LGBTQ+ Businesses You Can Support Right Now
by Elaine Roth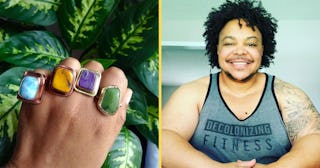 BlackQueerMagic/Decolonizing Fitness/Instagram
Thousands are swarming the streets to create change in a system that has long been in need of changing. The national conversation has finally focused on a problem many activists have been trying to highlight for years. The world is standing up to say: Black Lives Matter.
RELATED: 21 Black-Owned Brands And Businesses You Can Support Now — And Always
The names most commonly heard during the protests are George Floyd and Breonna Taylor and Ahmaud Arbery. Their stories are tragedies and their deaths senseless. But there are other names that need to be included in the conversation. Those of Tony McDade, a black transgender man who was killed by police in May, and Iyanna Dior, a transgender woman who was brutally beaten by a mob in June.
Their stories are examples of a harsh truth that Black LGBTQ+ people face, and their stories often go unheard. Jay W. Walker, co-founder of Reclaim Pride Coalition, a group that created the Queer Liberation March, tells USA Today that "black trans women are among the most vulnerable people in our society as a whole — the average life expectancy of a trans woman of color is 35 years."
This year, the 50th anniversary of the first Pride march coincides with the nationwide—well, more like worldwide—protests against racism and police brutality, and Scary Mommy has rounded up eight businesses you can support right now to both celebrate Pride and do your part to create lasting change.
https://www.instagram.com/p/CA51bu6hn0s/?utm_source=ig_web_copy_link
Featured in the New York Times and Essence Magazine, artist Adrienne "Madame" Muse has caught the attention of celebrities like Ava DuVernay, Lena Waithe, Janelle Monae, and Kendrick Lamar for her incredible talent. She uses her style of realism to depict the world the way she sees through art.
https://www.instagram.com/p/B1Rbfk3pNzw/?utm_source=ig_web_copy_link
Founder Joey Claytor is passionate about "giving a visual voice to those who can't yet speak it and confidence to those who can." MsHandsome apparel offers a variety of looks that support and empower you to live your life and embrace the you that you are.
Ilya (he/they) is an ACE certified Medical Exercise Specialist with over 13 years of rehabilitative and functional training experience. Ilya offers one-on-one fitness coaching, medical exercises coaching, and affirming spaces consulting with a weight neutral, trans-friendly, and disability-friendly consideration. Ilya also offers an online apparel shop and educational resources.
Vanessa B. Miller, MSW, (she/they) is the creative talent behind BlackQueerMagic, a line of handmade healing crystal pieces and metal stamped pieces. Vanessa specializes in lapidary, gemology, and metalsmithing, and focuses on Black Queer and Trans liberation and teaching community members how to harness their creative power.
Amalgam Comics & Coffeehouse is a comic book store and coffee shop that was thirteen years in the making. Owner Ariell Johnson opened the shop in 2015 and has since garnered national attention for her commitment to representation and inclusion. Amalgam is impressive not only because it's the first ever-black woman owned comic book store on the East Coast, but because it's a safe haven for you to indulge in all kinds of geekdom, coffee in hand. Can't get to the store? You can still shop online.
https://www.instagram.com/p/CBJdAR_pQ45/?utm_source=ig_web_copy_link
BatMe Cosmetics is owned and run by Jayla Roxx, the first Black transgender woman to open a makeup company. The makeup is affordable, vegan-based, gluten & cruelty free and the company embraces every gender, race, religion—and offers free shipping for orders over $35.
Bloom & Plume Coffee is the brainchild of Maurice Harris, a Los Angeles based artist with a humor, craftsmanship, and dedication to his community that make him highly sought after by some of the biggest names in Hollywood for his art. The coffee, pastries, and toasts are more than Instagramable. If you're not in the L.A. area, the online shop has mugs, shirts, and accessories.
A community-based organization, Bye Gender, formerly known as Werk Those Pecs and Trans is Beautiful Apparel, is on a mission to help trans individuals access the funding they for transgender surgeries or living expenses. Run by model and trans activist Devin-Norelle (zi/zim), Bye Gender runs an online shop which features, tanks, T-shirts, and pins—all for a good cause.
It's not wrong to feel a little hopeless and helpless with so much happening around the world. There's so much that needs to be done that it feels often overwhelming. Which is why doing something matters. A lot of little somethings become wide scale changes. Protesting, donating, and where you choose to spend your money makes a difference.
This article was originally published on