9-Year-Old Boy Brings A Handgun And Ammunition To School
by Valerie Williams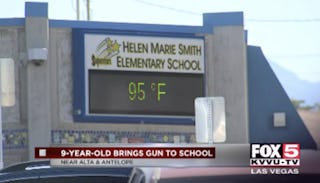 Image via Fox 5 News
A fellow student alerted a teacher to the handgun in the boy's backpack
This week, a nine-year-old boy was caught possessing a gun at his Las Vegas elementary school. It's 2018 and sadly, headlines about kids and guns aren't so shocking anymore — but they're always beyond disturbing, and this story is no exception.
Fox 5 News reports that on Wednesday, the unnamed child was found to have an unloaded handgun and ammunition in his backpack at Helen Marie Smith Elementary after reportedly showing it off to other students. One of the students alerted a teacher after seeing it.
After finding out about the gun, the teacher called police who then searched the child's backpack and found the firearm and unloaded magazine. Lt. Roberto Morales says no threats were made to anyone regarding the gun, which Las Vegas Review Journal reports was a .22-caliber.
Police report that Child Protective Services will be involved and the child brought the gun from home. Morales says since the boy was too young for being arrested and taken to a detention center and that he would be "referred to Harbor (juvenile detention)." Clark County School District Police are also in the process of submitting a count of child endangerment against the child's father.
The Las Vegas Review Journal reports that this marks the ninth reported firearm incident at the CCSD this school year.
It's only September.
"Another student saw something and reported it immediately to a teacher," Morales said. "The teacher immediately reported it to administration. They put the child and the backpack into a secure area and called us for a response."
The child will now be expelled, which is required by Nevada state law if a gun is brought to school. He will not be referred to a behavioral or alternative school because no such school exists in the district for elementary-aged kids.
Earlier this month, a student was killed by a gun at a high school in the CCSD. Had another student not made the potentially life-saving choice of telling a teacher about the gun in this boy's backpack, there could be similar sad headlines today.
This is not normal, but the sad fact is, it's becoming all too common — and we need to do better for our kids.
This article was originally published on