80+ 'A Walk to Remember' Quotes That Will Have You Up In Your Feels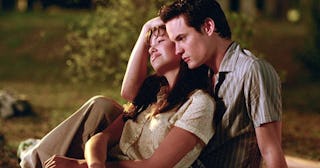 Warner Bros.
Nicholas Sparks' 1999 novel A Walk to Remember became one of the most popular love stories of our generation when it was turned into a film in 2002 starring Mandy Moore and Shane West. The heartbreaking story about love, acceptance, and loss takes viewers (or readers) on an emotional roller coaster over the course of its 102 minutes, and even decades later, it remains one of the most quotable movies. Also, we may have all fallen in love with West's Landon Carter during this film — who doesn't love a guy who changes his ways as he falls in love with a woman who is clearly better than him? Anyway, if you're in the mood to be all up in your feels over this classic film, check out the best quotes from A Walk to Remember and then turn up the funny factor with some Bridesmaids quotes after that!
Before we dive into the quotes, let's give credit where credit is due and acknowledge that there is no Moore in This Is Us without Moore in A Walk To Remember. That said, let the nostalgia wash all over you, and enjoy this clip of her singing from the big moment in the film.
A Walk to Remember Quotes
Landon Carter Quotes
"Our love is like the wind… I can't see it, but I sure can feel it."
"She's the best person I've ever known."
"Are you seducible?"
"Jamie, I love you… now, it would be time to say something."
"Maybe you're just too scared that someone might actually want to be with you."
"I might kiss you."
"Listen, I'm sorry I haven't treated Jamie the way I should've. She deserves more than that. I'm just asking you for the same thing that you teach us every day in church. And that's faith."
"Jamie, I can't just be your friend."
"'Find out who you are, and do it on purpose.' That's Dolly Parton."
"Right now, you're straddling the state line. You're in two places at once."
"That's thoroughly predictable."
"Jamie has faith in me."
"I made that jump once. Thought I was a badass. I remember actually saying that I meant to belly-flop."
"You don't care what people think about you?"
"I am sorry that she never got her miracle."
"She makes me want to be different, better."
"Maybe… maybe I miss spending time with you. Maybe you inspire me."
"I'm too young to die."
"Love is always patient and kind. It is never jealous. Love is never boastful or conceited. It is never rude or selfish. It does not take offense and is not resentful."
"We've had all the same classes in the same school since kindergarten. Why, you're Jamie Sullivan. You sit at lunch table seven, which isn't exactly the reject table, but is definitely in self-exile territory. You have exactly one sweater. You like to look at your feet when you walk. Oh, oh, and yeah, for fun, you like to tutor on weekends and hang out with the cool kids from 'Stars and Planets.' Now how does that sound?"
"Because then you wouldn't be able to hide behind your books, or your frickin' telescope, or your faith. No, no, you know the real reason why you're scared? It's cause you wanna be with me too."
"You're 18. You're perfect."
"Oh baby, that will never happen… I'll be here."
"You, uh, feelin' Christian?"
"Will you marry me?"
"You're lucky to be so sure."
"Do you normally walk alone in cemeteries at night?"
"OK…'What is a friend? It's a single soul dwelling in two bodies.' Aristotle."
"I don't know, man, I'm just tired of doing the same old sh*t every day."
"Jamie saved my life. She taught me everything. About life, hope, and the long journey ahead. I'll always miss her."
"Because I had it named for you. See? It's official. It's from the International Star Registry."
Jamie Sullivan Quotes
"The problem isn't finding out where you are gonna go — it's figuring out what you are gonna do once you get there that is!"
"In fact, there are some things that they call miraculous. Einstein said the more he studied the universe, the more he believed in a higher power."
"Maybe God has a bigger plan for me than I had for myself. Like this journey never ends. Like you were sent to me because I'm sick. To help me through all this."
"Fourty-two is 'Befriend somebody I don't like.' It's a to-do list I have."
"You don't know what you want."
"You're acting like a crazy person, what's going on?"
"OK, so you don't care about classes or graduating, but you like school because you're popular and you'll never be on top again."
"I'd tell you, but then I'd have to kill you."
"It's like the wind. I can't… see it, but I feel it."
"Don't worry it's not a bible."
"You have to promise you won't fall in love with me."
"Like we could be secret friends."
"You're my angel."
"The doctor said I should go on and live life normally as best I could. I didn't want anybody to be weird around me."
"You don't know the first thing about being someone's friend."
"Your act only works on an audience."
"How can you see places like this and have moments like this and not believe?"
"I do not need a reason to be angry with God."
"Landon, look, I thought I saw something in your, something good, but I was very wrong."
"I'm scared of not being with you."
"I've known you for years and you've never been the first one to come up and say 'hello.'"
"To marry in the church my mother grew up. It's where my parents were married."
"Without suffering there would be no compassion."
"I told you not to fall in love with me."
"All I know is…you're beautiful."
"I'll pray for you."
"Would it kill you to try?"
"The truth. I just left you out of it."
"He's too busy looking for your brain."
"I might be bad at it."
"Without suffering there would be no compassion."
"Landon Carter is asking me for help?"
"I was getting along with everything fine. I accepted it, and then you happened!"
Other Quotes
"You know what? I actually thought I wanted to be your friend. And now I have no idea why. No idea." — Clay
"If there is a higher power, why is it He can't get you a new sweater?" — Dean
"Bet you can see angels up there flying around." — Dean
"Mr. Carter, are you trying to be bad at this?" — Ms. Garber
"Oh Landon! You were marvelous!" — Ms. Garber
"I've seen the man bust a move and it just ain't pretty." — Eric
"Nothing's a coincidence, baby. You know you're the only one who can make me sing." — Eric
"It's like you don't even have time for your real friends anymore." — Eric
"Her…uh, Bible-hugging, crucifix-wearing, honk-if-you-love-Jesus-people." — Eric
"It's all good cause we're gonna get club Landon and Club Eric jumping up in here." — Eric
"This girl is changing you and you don't even know it." — Eric
"Hey man, tell them maybe do, like, West Side Story, you know, get that nice big booty lookin' girl from Selena, ya know, 'Maria, Maria'!" — Eric
"Honey, if I kept you too close it's because I wanted to keep you longer." — Reverend Sullivan
"She did. It was you." — Reverend Sullivan
"Do you remember when you were about five or six and you said you hated gravity? And you wanted to jump off the roof and fly?" — Reverend Sullivan
"Love is always patient and kind. It is never jealous." — Reverend Sullivan
"With all due respect, Mr. Carter, I made my decision. You can, uh, exit the way you entered." — Reverend Sullivan
"You know, when I lost your mother, I was afraid that my heart would never open again. Jamie, I couldn't look at you for days." — Reverend Sullivan
Dr. Carter: "Landon, don't walk away."
Landon: "You taught me how."
Eric: "Talk to me, man."
Landon: "About what?" Eric: "About you, about Jamie."
Jamie Sullivan: "Dad, look at me. I'm not a child."
Reverend Sullivan: "Then stop acting childish!" Jamie Sullivan: "I love him." Reverend Sullivan: "Then be fair to him, Jamie — before things get worse."
A Walk to Remember Book Quotes
"I held her close to me with my eyes closed, wondering if anything in my life had ever been this perfect and knowing at the same time that it hadn't. I was in love, and the feeling was even more wonderful than I ever imagined it could be."
"I don't think that we're meant to understand it all the time. I think that sometimes we just have to have faith."
"It wasn't that long, and it certainly wasn't the kind of kiss you see in movies these days, but it was wonderful in its own way, and all I can remember about the moment is that when our lips touched, I knew the memory would last forever."
"There are moments when I wish I could roll back the clock and take all the sadness away, but I have the feeling that if I did, the joy would be gone as well."
This article was originally published on