AAP Recommends Children Take Swim Lessons As Early As Age 1
by Cassandra Stone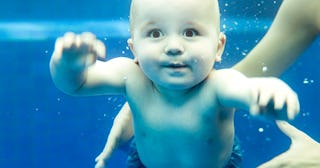 Orbon Alija/Getty
The AAP says swim lessons should be a top priority for children around the age of one
Drowning is the leading cause of death for children ages one to four. New recommendations from the American Academy of Pediatrics are highlighting the importance of water safety and drowning prevention, and the AAP has released updated advice and suggestions for parents of small children: kids should learn to swim a lot earlier than most parents might think.
RELATED: How To Teach Kids To Swim: Splashy Tips To Know About Swimming For Beginners
"Drowning is the single leading cause of injury-related death among children ages 1 to 4," said Sarah Denny, MD, FAAP, lead author of the policy statement, Prevention of Drowning published by AAP earlier this year. "Many of these deaths occur when children are not expected to be swimming or when they have unanticipated access to water. Toddlers are naturally curious; that's why we must implement other strategies, such as pool fencing and door locks."
What it boils down to is this: if your child can't swim in a pool without a flotation device, they can't swim. Which is why it's crucial to get your children into swim lessons around the age of one. The new recommendations have been updated in hopes to educate parents and help prevent swimming-related accidents, injuries, and deaths.
"Children should absolutely learn how to swim and obtain a survival float before they can walk," Yazmin Acocella, a swim instructor and owner of Born to Swim, tells CBS Miami. "Because once they can walk, they're mobile. Once they're mobile, they can crawl into a pool. They can walk into a pool."
Acocella says at six months of age, babies can learn to survive in the water. During swim lessons, they're taught how to roll over from their belly to their back into a floating position where they can rest and breathe.
According to an AAP report, in 2017, an estimated 8,700 children younger than 20 years visited a hospital emergency department for a drowning event, and 25 percent of those children were hospitalized or transferred for further care. Little ones between the ages of 0-4 are at the highest risk for drowning-related accidents because of the lack of barriers to prevent unanticipated, unsupervised access to water. This isn't just limited to swimming pools — it also includes hot tubs, bathtubs, natural bodies of water, or standing water in homes (buckets and toilets).
The AAP tells Scary Mommy, "Children and parents should learn to swim and learn water-safety skills. Because children develop at different rates, not all children will be ready to learn to swim at exactly the same age. There is evidence that swim lessons may reduce the risk of drowning, including for those 1 to 4 years of age. A parent's decision about starting swim lessons or water-survival skills training at an early age must be individualized on the basis of the child's frequency of exposure to water, emotional maturity, physical and cognitive limitations, and health concerns related to swimming pools."
Other tips from the AAP to prevent drowning include:
Parents should never leave children alone or in the care of another child while in or near bathtubs, pools, spas, or other open water.
Adults should empty water from buckets and other containers immediately after use — even a small amount of water can be hazardous for a young child.
Never leave young children alone in the bathroom. Toilet locks can prevent drowning of toddlers.
Even with older children and better swimmers, the supervising adult should focus on the child and not get distracted with other activities.
Now that Memorial Day has come and gone and summer will soon be in full swing everywhere, these recommendations are more timely than ever.
This article was originally published on