The Absolute Best Resources For Kiddos Learning The ABC's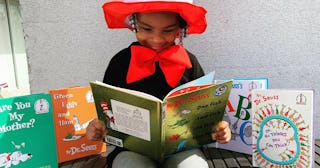 Catherine Hammond/Unsplash
If you're here, you're probably ready to start teaching your little one their alphabet. Teaching kids their ABCs isn't as hard as it seems, Mama. Once they start school and you get into sight words and contractions, you might really struggle. This, though… this is easy. Honestly, if you've found yourself singing the ABCs through rough nights and long car rides, you've already taken a huge leap. Your kiddo knows that song, even if they don't know exactly what it means. There are so many great resources out there to help your kid learn the ABCs.
We've collected some of our favorites to help you along. Whether you go for an app, a website, a book, or a song, there's a bit of something for everyone and every situation. Our best advice: Try several. One kid might not take to an app like your next. Other kiddos are still too destructive for books, but enjoy songs or games. You've got this and so does your child.
ABC Learning Apps
You already know that the easiest way to teach your kid to like something is to associate it with something they already love. That's why you mix their medicine with yogurt and serve ranch dressing with every. single. meal. What better way to get your kids excited about the alphabet than by letting Elmo teach them? Remember: Elmo loves you, too.
2. Endless Alphabet
Looking for more monster fun? These creatures aren't from Sesame Street, but they're still adorable and lovable. Endless Alphabet walks kids through not just learning their ABCs but, also, works on sight words. We really like that the colors are the typical obnoxiously bright colors you find in kid's apps and games.
3. Fisher-Price Puppy
If your child has one of those super-cute Fisher-Price stuffed animals with the colorful hands and feet, they're already familiar with Scout and Violet. On "Puppy," Scout (that's the green one) walks your kiddos through the alphabet. They show each letter and then a picture that is associated with that letter. All your tiny tot needs to do to work the app is tap the screen. That means you can start it super early. They may not pick up on "G is for goat" right away, but you'll be surprised at how quickly they pick up an elephant sound after the letter E. Bonus: This one is free, so it can be on every phone or tablet in the house.
ABC Games
Are you raising a PBS kid? If so, they're probably pretty familiar with Super Why. This letter game stars all their favorite characters and is the perfect family game night addition to play early before you send your tiniest tot to bed.
Everyone loves Go Fish, right? This version incorporates the ABCs, so you can teach your child the alphabet while you play.
If your little butterfly loves reading Eric Carle's Very Hungry Caterpillar, they'll love playing this ABC game. Book nerds will love seeing more of Carle's gorgeous illustrations and your kids will love spinning the pointer and hunting for what they need.
ABC Songs
While the original alphabet song is great for remembering the order of the ABCs, it doesn't help your kiddo learn to associate the letters with words. These will…
7. ChuChu TV
We love this song and the accompanying video. After each letter, the song gives two words that start with the letter and include the letters' sounds into the melody. It's a one-two punch for teaching the alphabet.
8. Usher's ABC Song
Not only does this version of the ABC song associate each letter with a word, but it gets your kiddos dancing. Also, any day you can sing with Usher instead of Elmo is a win in our book.
9. They Might Be Giants — Here Come The ABCs
Looking for something super fun and funky? You might know They Might Be Giants for their alternative career, but they've also put out several kids' albums. Here Comes The ABCs walks through the entire alphabet one song and cluster of letters at a time. Our favorite? "E Eats Everything."
10. Bid Bird's Alphabet Song
Admittedly, Big Bird's version of the ABCs probably isn't very helpful. It makes us laugh, though.
ABC Books
This book by Lois Ehlert pairs incredibly well with The Very Hungry Caterpillar game. While the authors/illustrators are different, they have similar styles and use similar color schemes. Plus, when your child is very young, a good chunk of their world still revolves around food and eating. Why not use that fact to teach them their ABCs?
Ready for us to rock your world, Mama? Let us introduce you to Scholastic's BOB series. Go to any book store and hit the kids' section and you'll find multiple shelves of BOB Books. Parents and teachers alike swear by them and their ability to teach kids reading. The alphabet book is just the beginning.
You're raising a feminist, right? If so, this book is the perfect introductory to the alphabet… and some amazing females.
Okay, okay. So, this book isn't for beginners. However, it's so smart and silly, it needed to be included. This alphabet book has a very important lesson, though: Sometimes letters are silent.
ABCs Printable Resources
This educational website offers nearly 1000 free alphabet printables, ranging from basic "practice tracing the letter A" sheets to connecting the alphabet-dots to drawn cute animals.
You've heard of Scholastic, right? They're kind of a big deal in the education world, so it's no huge surprise they've got some fantastic free ABCs printables available.
Other Tips to Teach the ABCs
17. Point out letters in the real world
Ever take your toddler to the supermarket? Good! Believe it or not, at this tender age you can teach kids more at a store than you can in a museum. Start by pointing out letters on products and annunciate the names of fruits and vegetables to give sounds to new letters your little one has just learned.
18. Take an ABCs road trip
Helping your kiddo learn the ABCs will be a lot easier if you immerse them in the alphabet as much as possible. So, turn routine trips into an ABC-learning extravaganza. Pick a letter of the alphabet and try to find as many things possible that fall under that letter: items, activities, people, places, everything.
19. Create alphabet art
There are few things little ones enjoy more than playdough. So, why not put it to good use in helping teach your kiddo their ABCs? Grab a mound and mold it into an A. Grab another mound and mold it into a B. And so on and so forth until you have a tiny army of playdough alphabet letters.
20. Decorate your fridge with letter magnets
As you've probably picked up on, one of the best tips for teaching your child the alphabet is simply to make it an immersive experience. Try to find little ways to place the ABCs all around your little one. One tried-and-true way to do that? Fridge magnets! These brightly colored magnetized letters are wonderful for teaching letter recognition. Bonus: Your kids will love playing with them!
This article was originally published on