Ready For Adele's New Album? Because It Seems To Be On The Way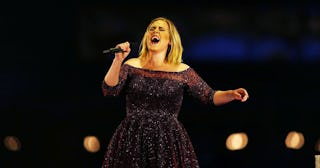 Paul Kane/Getty
After Adele's official social media accounts started changing, fans began buzzing that her new era is upon us
Hey, hi, hello. Are you having a bit of a rough go lately? In need of some music that speaks right to the core of your soul and just worms its way into each and every one of your deepest feels? Well, we've got some news that is sure to delight you, because it seems that new Adele music is on the way — seemingly sooner than anyone expected.
The pop crooner hasn't released an album since 2015's 25, and a lot has changed, both in her personal life and in the world at large. (Hadn't you heard?) In recent years, the 33-year-old singer has kept a decidedly low profile, making very rare appearances in public and on social media, which is understandable given that she's been navigating a divorce from her husband of two years, Simon Konecki, and parenting her eight-year-old son, Angelo. But rumors and speculation of a big return to music have been buzzing for a long time, and it seems like it's finally coming to fruition.
In recent days, fans have spotted mysterious billboards popping up in cities all over the world with the number 30 against a dark blue backdrop, which fans posited was a nod to the expected title of her upcoming album.
Then, on Monday, before Instagram and Facebook caused utter pandemonium by going down for several hours, all of Adele's social media platforms got an equally mysterious makeover, receiving dark blue overlays on her Instagram, Facebook, and YouTube accounts, as well as her official website.
Adele hasn't confirmed exactly when her new era will arrive, but fans seem to think it will be sometime next month — specifically on November 19th — and it's all thanks to Taylor Swift. Swift was slated to release her upcoming project, Red (Taylor's Version), on November 19th, announcing last week she's moving the release date up a week to November 12th. Though she didn't give an explanation behind the switch, fans began speculating that she did so to avoid competing with Adele's album.
And, of course, Adele herself seemingly confirmed her next album would be called 30 all the way back in 2019. In the caption for a celebratory birthday post in honor of her 31st birthday, the singer shed some light in her caption, writing, "This is 31…thank fucking god." She waxed poetic about the ups and downs of her 30th year, as well as dealing with fan scrutiny, writing, "I'll learn to love you lot eventually. Bunch of fucking savages, 30 will be a drum n bass record to spite you."
https://www.instagram.com/p/BxGAud6A_Mr/
It wouldn't be totally out of character for Adele to dive deep into her personal experiences by way of her music, and we wouldn't be totally mad to hear the Adele divorce album. We'll just patiently wait until November — somehow, it's already right around the corner.