Adele Officiated Her Best Friend's Wedding And Performed At The Reception, Too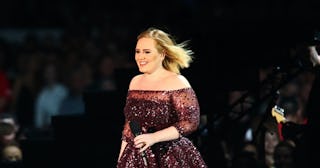 Morne de Klerk/Getty
Adele just proved she's everyone's dream wedding singer, and somehow we aren't shocked
In the grand scheme of wedding gifts, you can't really expect anything better than to have Adele provide entertainment on your big day. So, join us in suffering an intense bout of jealousy over the nuptials of the Grammy-winning singer's BFF, Laura Dockrill. The Londonite got hitched on Saturday night, and her reception was essentially a mini-Adele concert (that just so happened to take place at a pub full of wedding guests).
Instagram videos of the reception have surfaced on social media, showing Adele singing hits like "Rolling in the Deep." Since the singer hasn't given a full concert since 2017, we're guessing everyone who got an invitation to the wedding — and stuck around afterward — is counting their lucky stars right now.
Wearing a white short-sleeved shirt and floral skirt, Adele gave a rousing performance. Also on her setlist? Candi Staton's "Young Hearts Run Free," Spice Girls' "Spice Up Your Life," and Beyoncé's "Crazy in Love." And because we could all use a little good news in the world right now, someone even shared a clip in which Adele tells the crowd to "expect my album in September." While an actual album release date has yet to be confirmed by her reps, we're going to go ahead and consider that revelation Adele's wedding gift to the world.
Oh, did we mention Adele also officiated Dockrill's wedding to The Maccabees musician Hugo White? It's obvious she adores Dockrill, who she grew up with. If you've ever listened to the lyrics of her song "My Same," you know this — the track was written about Dockrill.
Interestingly, Adele isn't the only wildly talented friend Dockrill boasts. In addition to her Grammy-winning bestie (not to mention her new hubby), the bride is also close pals with Florence & The Machine's Florence Welch. She also performed at the reception, rocking out with the crowd to her band's 2008 mega-hit "Dog Days Are Over." At one point, Adele and Welch even sang together!
So, congrats go out to Dockrill on her wedding but, like, can you share? The rest of us could use a little musical BFF magic in our lives, too.
This article was originally published on