Your First Essential Steps If You Want To Adopt A Baby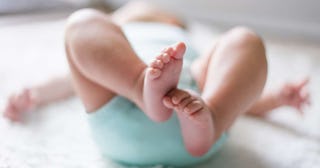 Picsea/Unsplash
So, you've made a deeply personal decision, weighed the different options on growing your family, and you've decided that you want to adopt a baby. Now, what's next? Well, unlike what you may have seen on TV and in movies, you can't just roll up to the hospital and have a nurse hand you a precious little newborn that's all yours to raise and love forever. The whole thing is a process and you have a lot of decisions to make, like do you want an open or closed adoption? Will you use an agency or go the private adoption route? Do you want to consider adopting a foster child? It could take years before you've gotten all the approvals you need, jumped through a series of hoops, and are matched with a baby. (It's a lot, we know.)
You're not alone in your search for more information. In fact, according to the latest search data available to us, baby adoption queries have a search volume of nearly 22,200 per month. Still feeling overwhelmed? We're here to help make sense of it all. Here's what you need to know about adopting a baby in the U.S.
If you're looking for more info on other types of adoption, you can find our guides to embryo, adult, international, transracial, step parent, military, single parent, Jewish, Christian, and same-sex adoption.
Where do you start?
Whether you're wondering how to adopt a child or want more information on infant adoption, the specific procedures and regulations will depend on your home state, so it's important to brush up on your individual state's rules on adoption in general. Thankfully, the Department of Health and Human Services has put together a document outlining the adoption rules in each state, so take a look at that first. But in general, there are certain steps prospective parents need to take in order to get the adoption ball rolling.
If you're about to make a major life decision — like adopting a child — you're going to want to think it through. Presumably, that's what you're doing right now reading this article. But don't stop here. First, learn more about the different types of adoptions, including adoption from foster care, domestic private adoption, international adoption, and independent adoption. For now, we're going to focus on domestic private adoption, when an individual or couple goes through an agency in order to adopt a child.
How much does adoption cost and how long does it take?
Domestic private adoption typically costs around $12,000 to $45,000 in the U.S. and can take anywhere from six months to several years. In cases involving infant or newborn adoption, the birth parent or parents may have a say in who the adoptive parents will be, which could slow down the process a bit. And while we're on the subject of cost, the financial component is a huge obstacle for many who would like to adopt. So, take it into account as you set out on the adoption process.
What are the different adoption types and agencies?
Next, think about whether you want an open or closed adoption. Basically, if you want any level of contact between your adopted child and their birth family, you're probably going to want an open adoption. In closed adoptions — which only account for approximately five percent of adoptions in the United States — no identifying information is shared between the birth parents, the adoptive parents, and the adopted child.
At this point, you're going to want to start researching adoption agencies as well to determine whether you'd like to work with a public or private adoption agency. Public agencies typically charge very little (if anything) to facilitate the adoption and are more flexible about who's allowed to adopt a child, but it also usually takes a lot longer. Private adoptions do cost more, but they also tend to move faster and give prospective parents greater options when it comes to making their decision on the child or infant to adopt.
What is the process of adopting a baby like?
Once you've chosen an agency, they'll have you fill out an application for adoption, as well as attend adoption and parenting classes. After that, the home study process begins. This typically involves a social worker visiting your home in order to get to know you better and to evaluate whether you're a good candidate for adoption. Depending on the agency and your social worker, the home study process could take anywhere from two months to a year.
If you've passed the home study portion of adoption, you'll then start with the actual placement process. You'll work with the agency to determine how to best conduct the search for a child, including things like whether you only want an infant or newborn, or will be willing to adopt an older child, as well as whether you want to expand the search beyond your immediate area into other states. Once you have criteria in place, you'll work with your social worker to find children who may be a good fit for your family.
What makes up a home study for adoption?
Home studies are a required step in nearly all types of adoption so knowing what to expect, and what is expected of you, will lead to a more successful process. Unlike what they show in the movies, a home study is more than just one quick conversation with a social worker in the house.
In addition to interviews and home visits where they will mainly inspect the safety of the home and the baby's intended space in the home, a home study will also call for the adoptive parent's health and income statements. The prospective parents will need to draft autobiographical statements detailing the story of their life, essentially. This gives the social worker a chance to get to know the prospective parents better. The home study also calls for background checks and references from three or four family members who can attest to why they might make perfect candidates for adoptive parents.
So, now you have a baby on the way…
There is still so much more to do! Just like biological parents spend roughly nine months thinking about life with their precious new baby, you have spent your entire adoption journey daydreaming about the same thing. Do you have everything you need — a crib, monitor, clothes? Have you considered parenting choices like co-sleeping, discipline, vaccines, or schooling? You should also make some time to update your will, Mama.
OK, so you might be feeling overwhelmed again now. We get it. But hear this: You do not need to have everything figured out the minute your babe arrives. Becoming a parent basically involves making a ton of very important decisions on a nearly daily (sometimes hourly) basis for the next 18 years. You got this, though. And we are here to help.
Don't get us wrong — there's a lot more to come after this — but at least this should be a start to help you start exploring adopting a baby in the U.S. If you have additional questions specific to your situation, reach out to a social worker or therapist who can answer all your queries.
This article was originally published on