AJ McLean Shares Concerning Interaction He Had With Britney Spears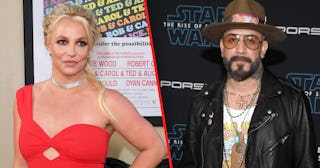 Steve Granitz/Ethan Miller/Getty
AJ McLean and Britney Spears have been friends for decades. In a new interview, he opened up about how she's a completely different person under her conservatorship
AJ McLean is officially a member of the #FreeBritney movement. The Backstreet Boys member appeared alongside Nick Carter on SiriusXM's Andy Cohen Live, where he opened up about his decades-long friendship with Spears, and a very concerning interaction he had with her recently.
"She's pretty much my neighbor. I see her often. She goes to the same shopping center that I do. There's this amazing cupcake shop that she goes through, that I go to," McLean said. "The last time I saw her, it broke my heart. Last time I saw her, she was with a gentleman. I'm assuming it was security or maybe a driver…she can't do anything."
McLean continued, saying that despite the fact that he and Spears have known each other since they were young, she seemed to not even recognize him at first.
"Went in, she was there, she looked right at me, and I was like, 'Hey, it's AJ.' And she just kind of had this glass face. Like, she just didn't know who was there," he said. "It took her a minute. And then she realized it was me, and we hugged and we talked for a brief moment, but I could just see that this wasn't her. Like, I'm not looking at the person I knew from years and years ago."
When asked, McLean said he believes the change in Spears's personality is due, at least in part, to the drugs she's said in court testimony her team forces her to take.
"In my opinion, that could be whatever they're keeping her on, which is just insane. It's not fair, and I don't think it's right," McLean said. Of the conservatorship, he added, "For it to go on for this long is absolutely asinine. I think it's insane. It is completely brutal."
Still, McLean said he still has faith that Spears is going to win her long and intensifying war against the conservators who have controlled her life for 13 years.
"She's going to break free of all of this," he said. "My thoughts and my prayers are with her."
McLean's story, coupled with the truly disturbing testimony Spears herself has given in court, paints a chilling picture of what's going on behind the scenes of this conservatorship. We're all with McLean here: Free Britney.