Alex Rodriguez Seeks To Normalize Concealer For Men & It's About Damn Time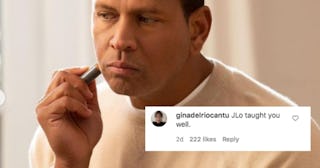 Alex Rodriguez (source: Instagram)
Alex Rodriguez goes to bat for the men's beauty industry
Jennifer Lopez's most recent ex, Alex Rodriguez, just announced a new brand partnership on Instagram — with a set of photos showing him using a stick of concealer by the company Hims. The concealer stick, which he worked with the brand to develop, was designed for men and yes to normalizing men wearing makeup because the burden to totally transform one's face every morning should not fall only to women!
"Working with the Hims & Hers team, I wanted to create a product that solved an issue I faced every day. I realized as I was jumping from meeting to meeting, I needed something quick and easy in my routine to conceal blemishes or razor bumps," he captioned the photos, in part.
While some fans were shocked at the partnership, others were supportive of how the Hall of Famer's public use of concealer would help to normalize the idea of men wearing makeup.
For some, men wearing makeup is a bridge too far. What they don't know is that, as usual, the next generation is light years ahead of everyone else. Take K-pop group Monsta X. Band member Hyungwon was the star of a photoshoot where the cutie wore…you guessed it: makeup. Specifically, Burt's Bees lip gloss.
Handsome, right?
Some took to Twitter to support Rodriguez's newest endeavor.
"If you don't think this is good business then you yourself are bad business," one person tweeted.
"A-Rod will make a fortune off this. After a year of being on zooms that 'touch up your appearance', I think men might be WAY MORE eager to buy concealer and other make up products they used to shun," another posted.
Others saw the baseball legend's foray into men's cosmetics as no big deal. "Because of puberty, I carried a tube of concealer in my pocket for much of high school," one person tweeted. "A-Rod might be stunned to learn that I didn't need two X chromosomes to open it."
Hilary Coles, co-founder and vice president of merchandising at Hims & Hers, spoke with Yahoo Life about how the brand looks at men's wellness and self-care.
"Men wearing makeup is possibly the worst kept secret out there — we know 50 percent of men today are using a facial cosmetic product to help cover everything from razor burn to dark circles," Coles told the outlet. "And yet, when we looked at the market, most of what was out there was far below our expectations. Products with only 3 shades? Loud macho packaging that discreetly couldn't fit in your pocket? We heard from men that they wanted something that seamlessly fit their lifestyle and skin, could promise to never sweat or look obvious, and didn't take an expert to apply. Whether on Zoom or in real life, we believe it's never been more important to feel good in your skin."
Not thrilled with the rumors that A-Rod stepped out on J.Lo while they were engaged, but here's to all people doing what makes them look and feel good, regardless of gender.