Bereaved Parents Deserve A Space To Grieve, And One Mom Is Making Sure That Happens
by Caila Smith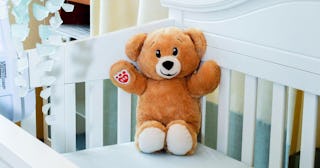 Courtesy of Alicia's Angels
Trigger warning: child loss/stillbirth
Like most moms, when Connecticut mom Jona Sager was pregnant with her daughter, Alicia, her time was spent day-dreaming about her future days to come with her newborn. But after a horrific car accident, all of her plans were laid to rest when her daughter passed away briefly after birth.
"I never saw her," Sager tells Scary Mommy. "My entire memory of her lies purely within the most, ugly, awful hospital room you could ever imagine. They put me in a room that was used for storage medical equipment so other moms wouldn't have to be around [child loss]."
As traumatic as this is, it was the reality for grieving parents just a few decades ago. Thankfully, hospitals are much more sensitive around matters regarding pregnancy, infant and child loss today. And as a neonatal nurse at Yale New Haven Children's Hospital, Sager has witnessed the compassion toward death change over the years. But still, like her, Sager has worked with countless parents who are grieving or are soon-to-be grieving the loss of their child. Throughout her experiences, she has always found one thing bereaved parents have in common: an ache for a nursery that will never be filled.
That's where Sager is stepping in. From her own traumatic experience with stillbirth, she is transforming her pain into something beautiful with Alicia's Angels Inc., a donation-based organization dedicated to providing cozy and beautiful "homelike" nurseries in hospitals for families whose children did not survive or will not survive long after birth.
"It's very hard on [hospital staff] when we get to a point where medicine can't make anything better," Sager says. "Even though I couldn't help with medicine, I wanted to do something for these families to make it better."
Yale New Haven Childrens Hospital in Connecticut is the first hospital to put this nursery-like room into action. Unlike a typical hospital room, Alicia's Angels Inc. has traded the uncomfortable birthing bed for something a little more homey — a king size big enough to make memories with the entire family. There are no scratchy sheets, just a down-comforter. A crib with an ombre mobile resides where a plastic rolling cradle once was placed. And beside it, a rocking chair, lamp, nightstand, as well as cream and blue soft-colored hues, adding a sense of serenity during such a heavy time of sorrow.
With the new nursery just finished, thankfully, it has not had to be used by any families just yet.
"This will be a two-edged sword when we hear from families that use this room now, because I hate that anyone has to go through with it," she says. "But if it helps, then it's worth everything we've ever done."
For families like Indiana mom of two Hartley Geyer and her fiancé, a room like this would have been invaluable. Geyer was 21 weeks and one day pregnant with her twin boys — Maverick and Milo — when her water broke during the wee hours of the morning, causing them both to be born still.
"Knowing we would be leaving the hospital without our twin boys was the most heartbreaking thing to experience," Geyer tells Scary Mommy.
The memories Geyer and her fiancé shared with their boys are all within the walls of a labor and delivery ward which was cold and sterile. But a warm space like the one Alicia's Angels Inc. is providing to hospitals would have made a monumental impact on the way Geyer remembers her brief time with Maverick and Milo.
"A [hospital] room that resembles a nursery would have, in a way, allowed me to 'take them home,' even though it wasn't home," Geyer says. "It would have been great to experience a few of those normal things, opposed to being in a normal room. We just never got any 'firsts' with our boys."
For parents whose babies were stillborn or have been given a terminal diagnosis, this nursery room is providing them with the opportunity to create first and final memories.
Chief of neonatal-perinatal medicine at Yale New Haven Children's Hospital, Dr. Mark Mercurio, tells TODAY Parents that allowing parents to bond with their children who might not live helps parents after their child's death.
"It is profoundly important," Mercurio says. "To make it a little bit gentler is a wonderful gift."
If the option of having a nursery-like hospital room helps to ease grieving parent's broken hearts for just a moment, then all of this is so worth it. For those who haven't been through such a tragic loss, these days spent within these decorated four walls might be just that — days. But for those who are in the midst of it all, this room is their child's lifetime.
For more pregnancy, infant and child loss support or financial aid services, check out our Scary Mommy Child Loss Resource Page for more information and connect with other bereaved parents who just "get it."
This article was originally published on