Nick Cordero's Widow Responds To Trump's 'Disgraceful' COVID Tweet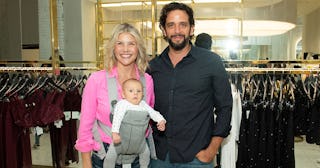 Noam Galai/Getty
Amanda Kloots, widow of Broadway star Nick Cordero who tragically died from COVID this summer, calls Trump out
Three months ago, Broadway star Nick Cordero died from COVID-19 after fighting the disease in the ICU for 95 days. His widow, and mom to their one-year-old son, Amanda Kloots, captivated millions of people on her Instagram account by sharing the heart-wrenching details of her husband's illness and death. Now Kloots has something to say to Donald Trump, who, on the three-month anniversary of her husband's unnecessary and tragic death, told everyone, "Don't be afraid of Covid, don't let it dominate your life."
Kloots took to her Instagram account in the wake of Trump's latest tweet downplaying the virus that has caused hundreds of thousands of American families to grieve for lost loved ones. She slammed Trump's callous words as "a slap in the face" and "beyond hurtful."
"To all the over 208,000 Americans who lost loved ones to this virus – I stand by you, with you, holding your hand," she writes. "Unfortunately it did dominate our lives didn't it? It dominated Nick's family's lives and my family's lives. I guess we 'let it' – like it was our choice??"
She mentioned that not everyone who contracts COVID can even be hospitalized — and she's 100% correct, because during one of the earlier peaks of the virus, healthcare systems were so overwhelmed with patients, the Centers for Disease Control and Prevention urged people to wait to come into the ER until they were struggling to breathe. Trump received top-notch, round-the-clock care for two days, and was pumped full of medications most Americans cannot afford.
"I cried next to my husband for 95 days watching what COVID did to the person I love," Kloots continues. "It IS something to be afraid of. After you see the person you love the most die from this disease you would never say what this tweet says. There is no empathy to all the lives lost. He is bragging instead. It is sad. It is hurtful. It is disgraceful."
In her Instagram stories, Kloots — whose social media brand is built on positivity and graciousness — grew emotional and justifiably angry at Trump's callousness. It's impossible not to cry listening to her talk about how much she and her sweet son have lost because of this virus.
"We saw what this disease can do so guess what? We are afraid. We are. I still am," she said. "I think about if I got as sick as Nick, little Elvis doesn't have his mom anymore, so I'm afraid. And let it 'dominate' your life. No one's 'letting it.' Nick didn't 'let it.' It wasn't a choice, and it dominated his life, it dominated my life, it dominated our families' lives for 95 days, and because he didn't make it, it will forever affect my life."
She concluded her Instagram story with a video of an ad for Joe Biden's campaign: "Joe Biden you have my vote and by God I hope and pray you win this election."
It's awful that a grieving widow, who brings so much love and light to all the people following her family's heartbreaking story, had to take time out of the three-month anniversary of her husband's death to address this. But using her platform to do it is impactful and helpful to everyone else who grieves along with her.