Amazon Has A 'Free' Sample Section Now, And We're Loving It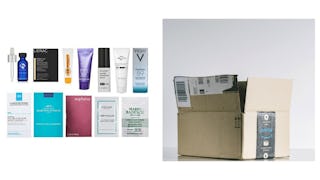 Amazon.com (left) / AdrianHancu/Getty Images (right)
It goes without saying that Amazon is the online shopping mecca. You can find pretty much anything you could possibly be looking for, sometimes cheaper than you'd be able to get it for in a store. And if you're a member of Amazon Prime — and let's face it, if you shop on Amazon regularly, you should be — there is an added bonus.
Behold, a new program called "Prime Samples," where you can order samples of items that you're interested in trying before you commit to the full sized version of the product. This is a godsend, especially for items like food or skin care, where you can often end up paying for something that you don't like.
The items available on Prime Samples aren't free; you're paying anywhere from $2 to $4 for each sample. But that money goes towards the purchase of an item of the same kind. So if you were to get a skin care sample for $4, you'd be able to use that $4 towards a full size skin care purchase. And there are no limits on how many individual samples you can buy, you just can't buy two of the same thing. And since it's a part of Prime, you don't have to pay shipping. The samples do take three to five days to arrive, instead of the usual two days with Prime — because, well, life just can't be perfect, can't it?
Samples are great, because they're just the right size to test out. Sometimes, you can get more than one use out of them, which is great when you're trying to test a product to see if you see any sort of changes, like a skin care item or a vitamin.
So, just what does Amazon have to sample? Well, it's all broken down into several categories, including: beverages and food, beauty and grooming, and baby. The selection is relative small (compared to Amazon's ginormous selection, that is), but since it's a new program, one can hope that if it grows in popularity, they will begin to expand what kind of samples they offer.
Each of the categories has sub-categories, with an average of three samples in each category. And while some of the sections have us scratching our heads — like the four different kinds of seaweed snack, while there are only two nut butters — think of it as an easy way to break out of your comfort zone. While there may only be one kind of popcorn to sample, there are 45 different coffee, tea and cocoa samples.
It seems that, for now, many of the food samples skew towards more healthy types of snacks; there are nearly 50 varieties of granola and nutrition bars, but only one kind of cookie. How you can only have one kind of cookie is absolutely baffling, but we're not the Amazon Prime people.
If you're a skin care junkie who is always on the search for new products to find, then this is definitely for you. The beauty and grooming category is one of the more substantial sections, with over 15 sub-categories with multiple sample options. There are 40 different facial skin care samples to choose from, and if you're in the process of trying to figure out what works best for your ever-changing skin, then this is definitely the section where you want to take a look.
If you're the type of person who just loves samples, and has no real preference for what you receive, then you can get a sample box! They range in price from $7.99 to $19.99, and they work the same way as the individual samples do with the price of the box gets credited back to you for equal value. There are brand specific boxes like Gatorade, Purina or Aveeno, but there are also pet sample boxes as well. There are several skin care and grooming boxes at different price points, and many of them are luxury boxes, which means you're getting top quality products.
The best thing is that Amazon keeps track of your sample credits, so you don't have to. They are automatically added to your account after they ship (Amazon sends you an email when you have new credits available,) and they are good for 180 days once the samples ship. When you buy eligible products, the credits are automatically applied to your purchase. And if you use Subscribe and Save, you can apply your credits to any eligible products.
As of right now, Prime Samples are only available to Prime members, so this may be a good reason to join if you haven't, or make nice to whoever you know who is a Prime member.
This article was originally published on