Rejoice! Amazon Will Soon Deliver Shake Shack And Chipotle To Your Door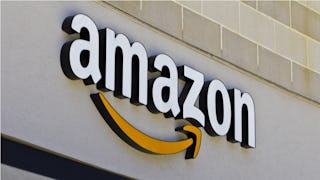 Image via Shutterstock
Now we can enjoy our favorite restaurants from the comfort of our home
Amazon is making it easier and easier for us to never leave our homes. The online retailer is partnering with restaurants to start delivering your favorite meals to your door, so you'll no longer need to get all dressed up and sit in traffic just to get your burger or burrito.
Just take our money, Amazon. Take it all.
The move makes sense for Amazon, which seems to be interested in selling anything and everything. (Because they know our innermost desires, obviously.) Also, there is a ton of money to be made from fast-food deliveries. According to Bloomberg, Americans placed about $10 billion for fast-food delivery via mobile apps in 2016 alone.
That number is expected to jump to $35 billion by 2020. Another added benefit for Amazon with this new service is that it brings more awareness to Amazon Prime services for the 0.003 percent of people out there who remain in the dark about what they're missing.
If you're thinking, "doesn't Amazon already deliver food from restaurants?" The answer is yes and no. A few years back the company launched a one-hour restaurant delivery service where it is headquartered: Seattle. Since then the project has taken off in a few cities, but a new deal with a company called Olo is guaranteed to offer many more options for those of us who are too busy to cook a whole thing every night.
It gets even better, though. Shake Shack and Chipotle are customers of Olo so you'll probably be able to order those delicious crinkle fries and your favorite burrito bowl via Amazon very soon. Five Guys and Wingstop are also expected to join the list of restaurants.
For example, we live 30 minutes outside of Seattle and can currently order from 53 restaurants via Amazon Restaurants. But soon that number should be much higher.
Basically, Olo creates the technology that allows us to place an order with our favorite restaurants on our smartphones and tablets. But by partnering with Amazon, now we'll be able to skip the part where we drive to the restaurant and pick up our order.
"They're obviously looking at new business segments — this is a big market for Amazon to get access to," Olo CEO Noah Glass told Bloomberg.
How big? Well, at least 200 restaurants use Olo so it's a pretty big deal. One Olo customer, Buca di Beppo, already said its 90 Italian eateries would be offering their menu to hungry families via Amazon Restaurants.
Which means we can get an enormous, family-sized dish of spaghetti and meatballs delivered to our door in no time. And we thought two-day Prime shipping was the end all, be all.
All we're saying is: get ready to see our fanciest pajama sets, delivery men and women of Amazon.
This article was originally published on