Central Park Karen Sues Ex-Employer For Racial Discrimination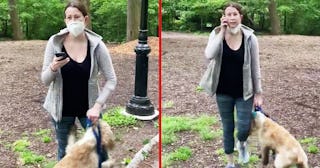 Christian Cooper/Facebook
Amy Cooper alleges that it was racial and gender discrimination when her former employer fired her for her racist actions
You all remember Amy Cooper, the woman who called the police on a Black bird watcher in Central Park last year. The entire incident was caught on film, and went viral because Cooper, a white woman, was yielding the deadly power of the police to intimidate an innocent Black man whose only "crime" was asking her to follow the park's rules and put her dog on a leash. Well, the story somehow gets worse. Cooper was fired when this incident happened, and now she's suing her former employer, claiming discrimination based on her race and gender. The audacity, I know.
Cooper filed her complaint on Tuesday in New York federal court, one year to the day after the initial incident with Christian Cooper (unrelated) in Central Park. Christian had been bird watching in the Ramble, a part of the park where dogs are required to be on leashes. Amy was walking her dog without a leash, and when Christian asked her to put one on her dog, she called the police and claimed a Black man was threatening and trying to assault her and her dog. Of course, the video shows nothing even close to a threat or assault, which is why Amy was charged with falsely reporting an incident. The charge was dismissed after she underwent counseling about her actions.
Amy Cooper was employed by the Franklin Templeton investment firm, who announced in a tweet that they had fired her after footage of the confrontation went viral.
Cooper's lawsuit against the firm alleges that she was "characterized as a privileged white female 'Karen'" because of public statements made by the company. It also claims that Franklin Templeton didn't investigate the incident like the firm publicly stated it did.
It continues to state that Franklin Templeton "perpetuated and legitimized the story of 'Karen' vs. an innocent African American to its perceived advantage, with reckless disregard for the destruction of Plaintiff's life in the process," and claims that Cooper would not have been fired if she were not a white woman. Uh, OK, sure.
Cooper is seeking damages for lost wages, bonus, and unvested funds, as well as compensation for what she says is emotional distress caused by racial and gender discrimination.
A spokesperson for Franklin Templeton summed this all up well: "We believe the circumstances of the situation speak for themselves and that the Company responded appropriately."