Amy Schumer's Leaky Boob Mom Vid Is So Real It Hurts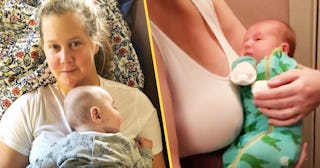 Amy Schumer/Instagram
Schumer shares a sweet throwback video to her leaky boob newborn days to celebrate her award nomination
When it comes to parenting humor, Amy Schumer takes the cake. Because especially in those early days of first-time parenthood, you've got to have a sense of humor or you'll sink. Which is why her latest throwback video — complete with leaky boob — is as relatable as it is sweet.
Schumer is celebrating a Critic's Choice Award nomination for her comedy special, Growing, which debuted on Netflix back in March. In the special, she was heavily pregnant and deep in the throes of hyperemesis gravidarum. So it's a natural choice to include her infant son, Gene, in an Instagram celebration post. The nursing bra and breastmilk leak is just the icing on the cake here.
https://www.instagram.com/p/B51ihjjpHi4/
"We are very honored and proud to have 'Growing' nominated for best special for the @criticschoice awards!" she captions the video. "He was about a week old he has a face with a view."
Indeed he does! He and every other breastfed baby probably don't know any other views exist outside of the nude, unsupportive-but-comfy-AF bras we all toss on 24/7 while our mother's udders adjust to their newfound state.
Raise your hand if you've ever found yourself deliriously singing and swaying your tiny baby to get them to calm down while looking exactly like this. This phase of parenting is what I call the "Pits, Tits, and Underbits" stage, because that's all you're able to wash in record time with a baby wipe most days. Showers are, unfortunately, a luxury at that point, and this is just what you look like. This is your life now. (Hi, hello, I'm currently in this phase myself for the second time around, ugly, paper-thin bra and all.)
If you haven't watched Growing, do yourself a favor and commit an hour and a half to watch it on Netflix. Much like Ali Wong's brand of stand-up, it's something anyone can enjoy for sure but it's especially on-brand for parents everywhere.
Her latest video isn't Schumer's first trip down Relatable Road. Shortly after giving birth to Gene, she provided her social media followers with the most accurate depictions of new motherhood EVER.
Like this pumping selfie. She captures the glamour of the act so vividly.
https://www.instagram.com/p/Bxvw6YmluZs/?utm_source=ig_embed
And the genuine adoration we all secretly feel for the mesh underwear provided by the hospital. Don't lie, you all know you came home with extra pairs and wore them much longer than was medically necessary.
She's currently working on a documentary that will highlight her incredibly difficult pregnancy. HBO Max, a new streamer set to launch in the spring of 2020, has ordered the documentary — tentatively titled Expecting Amy — which will follow the comedian during her pregnancy with her son, Gene. She'll share never-before-seen footage and what she endured trying to juggle being sick 24/7 with her busy work schedule, alongside what will likely be her perfectly unfiltered sense of humor.
We. Can't. WAIT.