Amy Schumer's Little Boy Said 'Mom' And It's So Dang Cute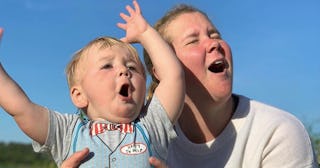 Amy Schumer/Instagram
Amy Schumer's reaction will definitely put a smile on your face
Amid this trash, hellfire of a week — during which we've mourned the loss of feminist icon and historic figure, Justice RBG, and continued to demand justice for Breonna Taylor, following the Kentucky grand jury's outrageous and offensive case decision, all the while surviving a global pandemic — we've been in search of anything (anything!) that could possibly put an actual smile on our faces. And, thanks to Amy Schumer, we might've just found it.
On Wednesday, Schumer shared a video of her 16-month-old son, Gene, on Instagram, during which he trots over to his kitchenette set. In the background, we hear Schumer say softly, "Mom," to which Gene repeats — for what we imagine the very first time judging by the adults in the room's overjoyed reactions — "mom."
https://www.instagram.com/p/CFezVyQJ8aV/
"The world is burning, but this was a nice moment," Schumer captioned the adorable video.
After some cheering and laughing and smooches, Chris Fischer, Schumer's husband, asks Gene to repeat what he said, "Can you say, 'mom'?" But Gene wasn't up for it. Good job catching that precious moment on camera, though, Dad!
This isn't the first time Schumer's gushed over baby Gene's ongoing list of accomplishments. In an interview with Today in May, she shared that he began clapping and walking around. "Yesterday, he was collecting pine cones and, I'll say it, he was hoarding them," Schumer added.
https://www.instagram.com/p/CBmFXfKJKL5/
She also told Today that it's been a "blessing" spending time together as a family in quarantine. "It's just sweet to get to be together right now, more than we would normally be," she said.
In addition to documenting milestone moments, Schumer and Fischer have also brought Gene along to plenty of protests, explaining to E! News that they plan to teach Gene about activism and injustices. "I go to a protest every morning at 10:30 and he comes with me a lot, so he'll know all about Black Lives Matter," she said. "I hope he doesn't even believe me when I tell him how awful things were."
Schumer added that she and Fischer will "keep it pretty real" with Gene when he's older. "I did get arrested while I was pregnant with him, so he's already been arrested," said Schumer, who, along with her I Feel Pretty co-star, Emily Ratajkowski, was arrested in October 2018 for protesting the nomination of Brett Kavanaugh to the Supreme Court.
https://www.instagram.com/p/CBWAQrOJmWq/
Leading up to Election Day, Schumer's also been very vocal about voting — never one to shy away from encouraging her fans and followers to exercise their right.
"Please make a voting plan," Schumer captioned her post of Gene, "and make sure everyone in your phone has a voting plan supermajority.com can help."