Amy Schumer's Son Saying 'Dad' For The First Time Will Make Your Heart Melt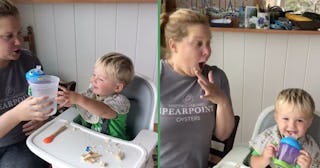 Amy Schumer/Instagram
A week after saying "mom" for the first time, Amy Schumer's son, Gene, followed it up with "dad"
2020 is a year that will undoubtably go down as one of the worst in the history of the world. There's COVID-19, that mysterious and deadly virus that has wiped out 1 million people around the world (and counting), the stark realization that racism is alive and well in America, a trash dumpster of the hate-fueled 2020 Presidential Election, and the death of so many beloved public figures and role models. In the midst of all the bad crap we are dealing with, most of us rely on getting our kicks from life's simple pleasures. One of those is actor, comedienne, and bonafide badass Amy Schumer, who literally makes this year a little more bearable one social media post at a time.
In this week's installment of Amy Schumer Is Our Spirit Animal, a week after her son, Gene, muttered the word "mom" for the first time, he has shocked his mother by moving on to the next big parental speaking landmark — and there's a video of it that will absolutely kill you with cuteness.
https://www.instagram.com/p/CF7R-uOptbr/
"Cheers," Schumer starts the video, tapping her plastic water cup with Gene's snack dish.
"We just wanted to say, 'Hi, daddy. We miss you and we hope you are having a fun day,'" she continues.
"Can you say, 'dad'?" Schumer asks him.
Then, he knocks her socks off with his response, which sounded a little more like "Gad" TBH, but we'll still give it to him.
Schumer, her nanny, and whoever was filming the short clip, expressed their shock and excitement in the most endearing way. However, apparently Gene wasn't ready for the room to light up and responded with horror — or, in other words, a really upset looking face followed by wailing.
"This video was clearly a surprise to us," Schumer captioned the video. "Getting to experience these first moments with my son makes me feel so lucky."
https://www.instagram.com/p/CFezVyQJ8aV/?utm_source=ig_embed
Because Schumer is incredibly clever and is never one to waste an opportunity to spread an important message, she pointed out that other people — like her friend, Angela — aren't quite as fortunate, urging people to google DJ Henry, a 20-year-old black student shot dead by police a decade ago.
Schumer has been incredibly vocal over the last year, raising awareness and lending her voice to so many important causes, especially those relating to racism and sexism.
This is why Schumer is a national treasure. She can make us laugh until we cry and somehow stimulate an important conversation all-in-one.