Amy Schumer's Friends Melt Over Adorable Video Of Gene On A Scooter
by Madison Vanderberg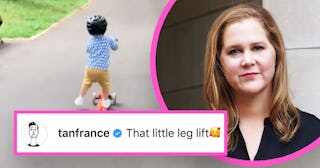 Amy Schumer/Instagram and Bobby Bank/GC Images/Getty
Amy Schumer posts video of son Gene riding a scooter through a New York park
It feels like only yesterday Amy Schumer was introducing us to her newborn son Gene David Fischer, but now the little guy is two years old and taking New York by storm, err, by scooter. Schumer shared the cutest video on Instagram on May 24, 2021 — about two weeks after Gene celebrated his 2nd birthday — showing the little guy scooting around Central Park, and readers, when I tell you it's adorable, believe me.
"This is 2," Schumer simply captioned the post.
Wait for the part when he lifts his little scooter leg to ride one-legged. Real strong #VaxSummer vibes here, and we dig it.
Schumer's famous friends raced in to comment on the cute video too, with Tan France from Queer Eye writing, "That little leg lift." Actress Uzo Aduba said, "Waaay too stinking cute. Also, so fast!" While Debra Messing wrote, "the pull-up kills me."
When Gene turned two earlier this month on May 5, 2021, Schumer took to Instagram to honor her husband Chris Fischer with the sweetest tribute.
"Today is our son's birthday and I woke up emotional as hell thinking about my husband, Chris," Schumer shared. "In this first photo while I was having a 3-hour c section he held my hand and stared in my eyes so I never felt alone. I feel loved and supported always. He takes care of our family and is a husband and father beyond my wildest dreams."
Schumer went on to share that her husband has Autism Spectrum Disorder (ASD), something the both of them have always been open about as they advocate for others to get tested for ASD as well. She added that "statistically our son most likely will be diagnosed [with autism spectrum disorder] as well," but added that "if he's anything like his father that is wonderful news."
Schumer capped the post by honoring Gene's birthday, writing, "happy birthday little geenie panini we love you as much as you love school busses."
What a sweet family, raising their little New York City kid. Schumer recently shared on the Today show that Gene is such a city boy, he already knows how to hail a taxi.
"He's doing really big things right now. He's standing on one leg, and he's pretty proud about that," Schumer said. "He can hail a taxi. You don't believe me, right? But he can," she said. "He can't speak yet…. He only says a couple words. But that guy, if you need a taxi, he can hail you one."
https://twitter.com/jetpack/status/1354060949154639872
Keep on scootin' lil King.