Send Your Kids To Cloud Nine With These Angel Coloring Pages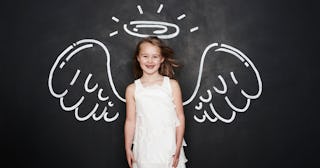 Flashpop/Getty Images
Even if you're not particularly religious or even spiritual, your kids probably know about angels. While the angels that adorn some Christmas trees or the ceiling of the Sistine Chapel may look more adult and surreal, that's not exactly how all angels look. When you explore angel lore, you'll find that not all angels were even necessarily good. Fans of the show Lucifer will tell you that some angels look like smoking hot British men. (Because, yes, Lucifer is/was an angel.) Of the more familiar look angel-types we see, though, are those cute, chubby-cheeked baby cherubs. Angels are often portrayed as children — or at least younger beings with youthful faces. That particular portrayal of angels also makes for adorable angel coloring pages, which we discovered in creating this ethereal collection of free printables.
However, the general population will define an angel as a guardian spirit or just a good, innocent person. In fact, we've included along with this collection various angel quotes — one of which has nothing to do with an actual celestial being but, instead, is geared toward someone's perception of themselves. All of these angels, though, are super lovely… and probably pretty innocent.
After the last few tumultuous years, we can probably all agree that we can use more of anything that makes us feel a bit lighter and more hopeful. And is there anything more therapeutic, more cathartic than sitting down to a crisp white piece of paper and a cupful of your favorite crayons, markers, or colored pencils? It can really get you out of a slump. From the angels below to royally cute princess coloring pages and rad rocket coloring pages, we have free printables for pretty much any interest. But these angel coloring pages might just be our favorites.
Free Printable Angel Coloring Pages
Angel Page No. 1
"I saw the angel in the marble and carved until I set him free." — Michelangelo
Angel Page No. 2
"I am good, but not an angel. I do sin, but I am not the devil. I am just a small girl in a big world trying to find someone to love." — Marilyn Monroe
Angel Page No. 3
"A woman has two smiles that an angel might envy, the smile that accepts a lover before words are uttered, and the smile that lights on the firstborn babe, and assures it of a mother's love." — Thomas Chandler Haliburton
Angel Page No. 4
"Our brains are seventy-year clocks. The Angel of Life winds them up once for all, then closes the case, and gives the key into the hand of the Angel of the Resurrection." — Oliver Wendell Holmes, Sr.
Angel Page No. 5
"Friendship is the sort of love one can imagine between angels." — C.S. Lewis
Angel Page No. 6
"I think we all do have a guardian angel. I believe they work through us all the time, when we are thoughtful and good and kind to each other." — Roma Downey
Angel Page No. 7
Did you know there are different kinds of angels like seraphims and cherubims? There are also archangels and fallen angels. An archangel is the highest rank of angels, and fallen angels are banned from heaven. We wonder what type of celestial being this cutie in the image above is. Then, of course, there's another type of angel: the angels of good nature, as Abraham Lincoln so eloquently described. He said, "We are not enemies, but friends. We must not be enemies. Though passion may have strained, it must not break our bonds of affection. The mystic chords of memory will swell when again touched, as surely they will be, by the better angels of our nature."
Angel Page No. 8
"No, I never saw an angel, but it is irrelevant whether I saw one or not. I feel their presence around me." — Paulo Coelho
Angel Page No. 9
"Artistic temperament sometimes seems a battleground, a dark angel of destruction and a bright angel of creativity wrestling." — Madeleine L'Engle
Angel Page No. 10
"Monsters will always exist. There's one inside each of us. But an angel lives there, too. There is no more important agenda than figuring out how to slay one and nurture the other." — Jacqueline Novogratz
Click here to print all of the angel coloring pages at once!
This article was originally published on