Animal Shelters Plead For Fosters During Coronavirus Pandemic
by Julie Scagell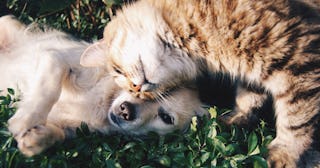 Snapwire
Shelters could use foster families and donations during this difficult time
As people look for ways to stay sane, connected, and busy while at home during coronavirus social distancing and quarantining, perhaps fostering a pet (or adopting a new member of your family permanently) is the answer. Shelters need us now more than ever.
As the spread of coronavirus continues, animal shelters are one more business looking for ways to keep rescuing and caring for animals while many are shutting their doors to the public and canceling adoption events. This means fewer animals will find their forever homes even as more and more animals continue to come in. Add to this staff shortages from those who may become sick or self-quarantined and it's a big cause for concern.
Many shelters are asking for additional foster families so animals have somewhere to go with people who will give them the love and affection they deserve. Fostering means that an adoptable animal lives temporarily in your home while they wait to be formally adopted. This not only prevents overcrowding in shelters but helps animals that need special care. It's also a great way to get a pet better ready for adoption as they get more easily used to living in a home when they're not stuck in a shelter kennel.
Other shelters, many of whom work solely off the donations of others, need additional help as adoptions are put on hold until they reopen and animals continue to be rescued. Many are reducing or waving adoption fees in the hopes more people will be able to adopt.
The Atlanta Humane Society said all of its locations will be closed to the public from March 16 through March 31, Patch.com reported. "It is our top priority right now to maintain a safe workplace and implement practices to protect the health of our community," it said. "We will not be accepting any visitors during this time and our adoptions and admissions program will be closed to the public. It has not been an easy decision for us to close, but we are doing so for the wellbeing of our staff, volunteers, and community."
An animal care center in New York echoed the sentiments, writing in part, "If you want to act now to do something to help, get those foster supplies. Let your shelter know you can help. Be prepared to house a pet for several weeks if your shelter exceeds capacity or shelter operations are interrupted."
We are all worried about the financial impacts that this pandemic is bringing about but these animals need us now more than ever. If you have the means to donate, foster, or adopt, reach out to a local shelter and ask what you can do. If we're going to be inside, having a fur buddy to pet and play with sounds pretty good.
This article was originally published on