Internet Supports Anna Faris After Chris Pratt's Post About His 'Healthy' Daughter
by Christina Marfice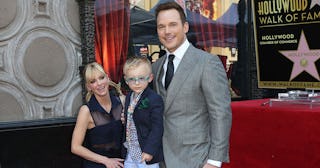 Mediapunch/Shutterstock
Chris Pratt posted on Instagram thanking his new wife for his "healthy" daughter, and the internet thinks it's a dig at Anna Faris
In recent years, Chris Pratt has gone from a beloved A-lister to… somewhat controversial. The internet proclaimed love was dead when he and ex-wife Anna Faris announced their split, and that was before rumors started swirling that Pratt had cheated on her. That's still never been confirmed, but there's no denying the Guardians of the Galaxy star's involvement in a church that's known for its anti-LGBTQ beliefs. This is the one Chris the internet is divided on, and it shows in the reaction to his latest Instagram post.
Pratt posted a sort-of birthday tribute to his new wife, Katherine Schwarzenegger — six weeks before her birthday. And that's not all that's odd about it. Just, read what he wrote:
"Guys. For real. Look how she's looking at me! I mean. Find you somebody that looks at you like that!! You know!? We met in church. She's given me an amazing life, a gorgeous healthy daughter, she chews so loudly that sometimes i put in my ear buds to drown it out, but that's love! She helps me with everything. In return, periodically, I open a jar of pickles. That's the trade. Her heart is pure and it belongs to me. My greatest treasure right next to my Ken Griffey Jr Upper Deck Rookie card. Which if you know, you know is saying a lot. It's her birthday in about 6 weeks. So if I don't get her anything, I'll tell her to look back on this post. Love you honey."
I mean is it just me, or did the guy just spend 150 words basically negging his wife? Insulting her for chewing too loudly, comparing her worth to a baseball card, saying she helps him with "everything" and he only opens pickle jars for her, openly admitting that he might forget her birthday? It's clearly meant to be tongue-in-cheek, but the tone of the post is just very off-putting to some people.
But a lot of people zoomed in on one part of the caption in particular: When Pratt thanks Schwarzenegger for giving him a "gorgeous, healthy daughter."
In case you don't know, Pratt also shares a 9-year-old son, Jack, with Faris. And when Jack was born nine weeks premature, he spent several weeks in the NICU with a severe brain bleed. He now suffers from visual impairments and an unrelated, though not serious, heart problem. But for Pratt to choose the word "healthy" in this gushing post to his new wife when he shares a son who has health challenges with his ex-wife felt… shady.
All we can really hope is that is was an unintentional, weird choice of words. But it's a rare day that the internet agrees on something, so we'll just leave you with this.