The Trailer For A Moving Documentary About Anthony Bourdain Is Here
by Madison Vanderberg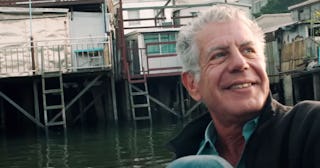 Focus Features/Youtube
Roadrunner: A Film About Anthony Bourdain highlights the impact that the chef and journalist left on the world
An upcoming documentary shines a light on Anthony Bourdain's life, as it aims to get to the heart of the late gonzo journalist and chef's ethos as he silently struggled behind the scenes. Roadrunner: A Film About Anthony Bourdain showcases Bourdain's lasting imprint on the world, using real footage from Bourdain's various shows and new interviews with friends and colleagues who share insights about the passionate chef, whose empathetic travel and food shows allowed us, at home, to peek into cultures and places we've never been and connect with strangers all thanks to Mr. Bourdain's unique gift as a conduit of connection.
From the publication of his tell-all book Kitchen Confidential, which led to him host world travel shows like No Reservations and Parts Unknown, to his untimely death in 2018, the new film covers it all.
Throughout the trailer, friends and loved ones put into words the impact that Bourdain had on them and what they thought about the trailblazing figure.
"He was a traditional romantic," says one friend. "Reality was never going to live up to exactly how he pictured it," said another. "He was definitely searching for something," adds another.
Despite his celebrity and his world-traveling quest to connect through food and adventure, Bourdain lived "a life unknown," a reference to his beloved CNN series, but also a true testament to the mystery of this man.
"It's not where you go. It's what you leave behind," reads the film's official synopsis. "Chef, writer, adventurer, provocateur: Anthony Bourdain lived his life unabashedly. Roadrunner: A Film About Anthony Bourdain is an intimate, behind-the-scenes look at how an anonymous chef became a world-renowned cultural icon. From Academy Award®-winning filmmaker Morgan Neville…this unflinching look at Bourdain reverberates with his presence, in his own voice and in the way he indelibly impacted the world around him."
The world gravitated towards Bourdain for his no-bullshit approach to food, travel, and human connection all while being open with his struggles with depression and drug use.
In a 2016 episode of his show, he spoke to a therapist about his depression and the mundane objects that can trigger him.
"I will find myself in an airport for instance and I'll order a airport hamburger. It's an insignificant thing, it's a small thing, it's a hamburger, but it's not a good one," he shared. "Suddenly I look at the hamburger and I find myself in a spiral of depression that can last for days….I feel kind of like a freak and I feel kind of isolated."
"I communicate for a living, but I'm terrible at communicating with people I care about because the evil hamburger which sets me off, suddenly I'm super depressed for day," he added.
Roadrunner is directed by Academy Award-winning Morgan Nelville, who made the Fred Rogers biopic Won't You Be My Neighbor? Roadrunner debuts in theaters July 16, 2021.