22 People Injured In Shooting At Community Art Festival
by Jerriann Sullivan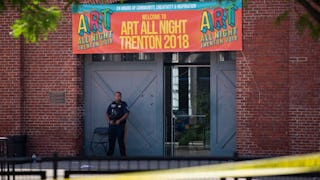 Image via DOMINICK REUTER/AFP/Getty Images
Suspect killed, 22 people injured in shooting in NJ
At least 22 people were injured in a shooting at an art festival in New Jersey over the weekend. Four of the victims, including a 13-year-old boy, are in critical condition. One of the gunmen allegedly responsible for the violence was shot and killed by police, according to media reports.
Two men are allegedly responsible for the mass shooting that happened at the Art All Night Trenton festival that presents art, music, food, and films from local artists. The shooting started around 2:45 a.m. on Sunday and sent people running for their lives, officials said. Mercer County Prosecutor Angelo Onofri told the Associated Press that a "neighborhood beef" led to the shooting between the two men. Police have not released the names of the two alleged shooters but said the second man was in custody.
In a horrible and sad twist of irony, the gunfire reportedly broke out in front of a community mural put on by non-partisan anti-gun violence group Moms Demand Action For Gun Sense In America. It read "Imagine a world free of gun violence. What do you see?"
https://twitter.com/jetpack/status/1008445126648135680
Trenton Mayor Eric E. Jackson told reporters that the violent public act can't be "discarded as just random violence; this is a public health issue." He isn't wrong. The United States is the world leader in deaths of children by guns. And we don't even track that statistic very well since politicians approved funding from the NRA that prevents the Centers for Disease Control from collecting information on gun violence. Thankfully, the American Academy of Pediatrics has been outspoken about America's crisis with guns. According to the AAP, guns kill about 1,300 children in the U.S. every year. Shootings result in another 5,800 kids being injured every year, too.
"There were people trampling other people, cars hitting other cars," explained Gennie Darisme, who was leaving the festival when she heard the gunshots and saw people running. Theresa Brown shared what she heard: "pop, pop, pop." She added: "I thought it was a car backfiring." Brown has volunteered for the art festival for 12 years. The rest of the event was canceled following the shooting. Organizers of the festival shared their thoughts on social media following the mass shooting: "We're very shocked. We're deeply saddened. Our hearts ache and our eyes are blurry but our dedication and resolve to building a better Trenton through community, creativity and inspiration will never fade. Not tonight. Not ever."
It's unclear exactly how many people were injured in the shooting because not all victims go to the hospital and some folks are treated and released before doctors have a chance to count. Every day we don't do something about gun violence in America we are failing our children. If you're sick of mass shootings here is how you can do something about it.
This article was originally published on