Online Furniture Shopping... Not Always Scary!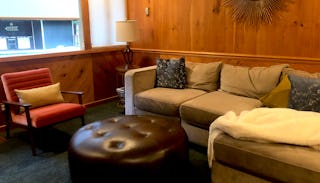 Hi, I'm Jill, and I am addicted to online shopping.
I order my groceries online, my shoes and clothes online, my medication online, and even my wine online. I mean, why in the world would I venture out into the world for something if I can do it from the comfort of my own couch? So when it came time to decorate my new house, many of my decisions were made sight unseen. Fortunately, almost all of my online purchases were a success, and topping that list are pieces I got from the online modern furniture company, Article.
I was first introduced to Article's furniture through a Facebook ad, which doesn't normally do much to bolster my faith in companies I've never hard of. Besides, isn't furniture the type of thing you need to see and test in person? But I was looking for a few specific items, and they seemed to have exactly what I was looking for. Plus I was really tired of schlepping to home stores.
I'm happy to report that my new finds look exactly like I thought they would, and I would have purchased them had I seen them in person first. I love the pop of the orange, and I'm going to order another to make them a set. My mom appreciates not sinking into our overly deep couch every time she comes over, and gave the comfort level two thumbs up.
Article offers a flat shipping fee of $49, with free returns within 30 days (minus the delivery fee.) If you're in the market for modern furniture, check them out – there's nothing to be afraid of.
Editors receive product samples like the above from time to time, but all opinions are always our own.
This article was originally published on