Ashley Graham Documents Another Parenting First: Diaper Blowout At The Store
by Julie Scagell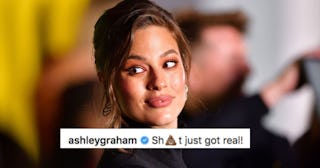 James Devaney/GC Images
Ashley Graham posts hilarious pic changing son Issac in a store aisle
New mom Ashley Graham has been keeping it as real as she did during her pregnancy now that she's a mom — and we love her for it. She and husband, Justin Ervin, welcomed Issac in January and her latest post is one most of us can relate to — dealing with a diaper blowout at the most inopportune time and place, like the middle of a store aisle.
"Sh💩t just got real!" Graham wrote on Instagram next to a hilarious pic of her changing baby Issac's diaper in the middle of a Staples, you know, the office supply store. "First diaper blow up while running errands with no restroom in sight! Thank God I remembered to put the changing mat in the diaper bag!!!"
In just a few weeks of being a momma, Graham has been sharing parenting highs and lows while becoming a powerful ally for breastfeeding moms along the way. She's shared multiple photos of herself nursing her baby boy, which helps normalize breastfeeding.
"Multitasking sunday," Graham captioned a recent breastfeeding pic.
She also recently shared a photo of her post-baby stretch marks along with a simple but powerful message. "Same me" she wrote, looking as gorgeous as ever.
But, it's this most recent post that is by far the most relatable because every mom has been caught off guard by a rogue diaper situation. It looks like Graham is already a pro, armed with all the necessary items to make it through the emergency blowout unscathed. It's amazing how quickly a tiny human can get poo stuck in between every single crevice of their bodies.
Whether you had a vaginal birth, a c-section, or became a parent through adoption, if you feed your baby formula or breastfeed, or if you co-sleep or not — the diaper blowout is universally loathed by parents everywhere. Thanks to Graham, we're reminded (now that it's not us) just how funny it can be, too.
This article was originally published on