Pregnant Ashley Graham's New Video Is A Tribute To 'Embracing' Her 'New Body'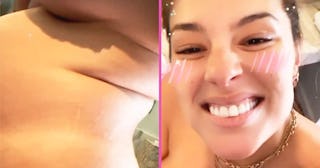 Ashley Graham/Instagram
Ashley Graham looks as stunning as ever showing off her new belly shots
Model and body positivity legend, Ashley Graham, is currently expecting her first child with her husband of nine years, Justin Ervin. The gorgeous woman hasn't been shy about talking all things pregnancy and body on social media and fans continue to appreciate her honesty and self-love. She just dropped a new video on Instagram that continues this tradition and she looks as amazing as ever.
"Getting bigger and bigger and trying to embrace my new body everyday. It's a journey and I'm so thankful to have such a supportive community," she said, showing off her curves and growing bump.
https://www.instagram.com/p/B3VvqQWgr8G/
Graham has always been a voice for body positivity and loving the skin you're in, but she has the "pregnancy glow" in spades and uses that to remind women that no matter what their bodies are going through, we all deserve to love ourselves.
"I'm not here to make you feel 'beautiful,' whatever that means," Graham said at a Glamour event in New York in 2017. "I'm here to make you understand that true beauty is being OK with who you are. Being OK with who you are is a revolutionary act. And making someone else feel OK with who they are? That's downright heroic."
She's also recently shared her fitness routine with her fans, working hard and performing a squat while doing a cable pull. She says fitness is a lifestyle for her and by the looks of things, she's nailing it. She's also posted yoga pics, showing us once again how truly amazing our bodies are.
It seems pregnancy hasn't slowed Graham down — she's also posted some sweet pics of a recent staycation with her husband. Seriously, she looks incredible. When I was pregnant, I didn't have a "glow" so much as a constant state of perspiration that I guess looked shiny in the right light. I certainly wasn't feeling positive enough to sport a bikini, but looking back I wish I'd have just put on the damn suit. At least I would have been less sweaty.
The soon-to-be mom is also an author, writing her book "A New Model. What Confidence, Beauty, and Power Really Look Like," which also talks about the importance of self-love and being an advocate for yourself. "I used to be bound by people who placed limits on what they thought I could do. Through that, I learned that if you want something, you have to be the one to go out and do it If you don't ask for something, you're not going to get it."
Well said, mama.