Ashley Graham Shares A Labor Pic: 'My Greatest Pain And Greatest Accomplishment'
by Julie Scagell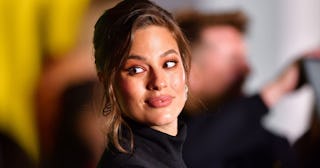 James Devaney/GC Images
Ashley Graham shared a raw, personal moment with the world
It's International Women's Day, and new mom Ashley Graham decided to celebrate by sharing a very real, very powerful picture with the world — one taken while she was giving birth to son Issac.
"This is the face of my greatest strength," Graham wrote on Instagram next to a beautiful picture of her in delivery. "The greatest pain I've ever known and the greatest accomplishment that I've ever achieved. On this International Women's Day, understand that despite whatever pain or trial we have all experienced as women, we are also strong, powerful and capable of accomplishing greatness."
Graham made the announcement of the birth of her son on Instagram as well, saying, "At 6:00 p.m. on Saturday our lives changed for the better," the 32-year-old model wrote. "Thank you all for your love and support during this incredible time. 1.18.2020."
Since, Graham continues to share peaks into the life of a new mom — ones many of us can relate to. She's been a strong advocate for public breastfeeding, sharing several pics of herself grabbing coffee and multitasking while baby Issac feeds. She also recently shared a hilarious pic of her son's first blowout (no restroom in sight, of course), so she did what any mom would do: resourcefully changed him on the floor at Staples.
Graham has always been an advocate for women and body positivity. She's also been open about her struggles for self-acceptance. "Words were breaking me for a long time. I would call myself fat and ugly and disgusting," she told People in 2016. "The moment that I realized, that's not the kind of life that I want, my life changed. My career took off." Her message is one of every woman: The only person who is able to comment on our bodies are the ones who inhabit them.
Graham's message today is equally as important. As women, we should be lifting each other up and celebrating each other as much as possible. We are a force to be reckoned with and the more we band together, the stronger we become. International Women's Day is a day to celebrate women's rights gained around the world, and Graham's post is a perfect reminder of just how strong we are.
"Happy International Women's Day!" Graham finished her post. "Let's all celebrate our, and each other's strengths today."