Ashley Graham's Ready To Stop Nursing: 'I Am Not Your Pacifier, I Am A Boss'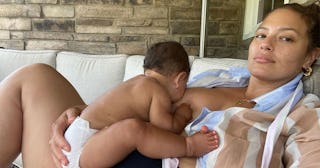 Ashley Graham/Instagram
Ashley Graham is all ready to wean baby Isaac and it's super relatable
Ashley Graham is one happy momma. Ever since she shared the news of her pregnancy, the model, activist, podcast host, and businesswoman has happily let the world see the details of her journey as a parent. That includes candid posts about the ups and downs of nursing her son Isaac.
In keeping with that theme, she just shared plans to eventually wean the adorable little guy in a new interview with The Wall Street Journal. "I'm just like, I am not your pacifier, I am a boss, I am a businesswoman. I have shit to do," she quips.
If that's not relatable to every breastfeeding momma I don't know what is. Even if you don't have a paying job or a business to deal with, surely you have things to get done and it would all be a lot easier without a small child attached to your boob. I remember my son still wanting to nurse as a young toddler and the guilt I felt at wanting it to end so I could stop being tethered to him quite as much. In fact, I delayed a much-needed (financially and otherwise) return to the workforce in order to let him finish breastfeeding when he was ready. Her feelings on wanting it to be over are incredibly real to any mom who's been there.
Just in case anyone doubts Graham's love of nursing her little guy despite very understandably wanting it to stop one day, check out her Instagram posts dedicated to happily feeding him.
Also, her numerous posts featuring precious nursing pics definitely help normalize breastfeeding (which, sad that it still needs to be done in 2021).
Graham even let the world see the glamours of pumping, which, is not glamorous at all, but she sure makes it look that way.
Graham also hints to WSJ another exciting reason why she wants Isaac to wrap it up with nursing. "I would get pregnant yesterday if I could," she shares. "I've 'accidentally' had unprotected sex while I'm ovulating just to see if I can while I'm breastfeeding."
EEEKK. Go ahead and wean, Ashley. We'd love to see another of your gorgeous babies.