Ashley Graham Blesses Us With Epic Pic Of Her Postpartum Hair Regrowth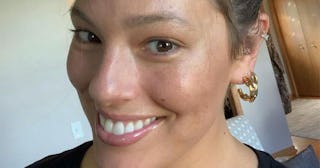 Ashley Graham/Instagram
There's postpartum hair loss… and there's Ashley Graham's postpartum hair loss
If you've ever given birth, you know that the hormone issues you experience while pregnant are pretty much nothing compared to what happens to your entire body and sense of self after the baby comes out. Postpartum hair loss is a great equalizer for those who have recently given birth in that no one escapes it — not even gorgeous, famous models.
In her most recent Instagram post, Ashley Graham shared a photo of her own hair loss and subsequent regrowth. Her son, Isaac, might be over a year old now, but postpartum hair issues continue well into your child's toddler life. How lucky we are!
"I may not be a Bond girl but I can be a Bond villain (postpartum baby hairs come through!!!)" Graham captioned the photo, which will probably live in our heads rent-free for the rest of our lives. In the next pic, she features Anatole Taubman's Quantam of Solace character, Elvis, who is rocking a similar "baby bangs" style. LOL.
If your first thought on looking at that photo is, "What hairstylist did her dirty??" you're not alone. But, alas, it's just those after-baby hormones coming through. Because even if you lose a lot of hair in the first few months of your child's life, you'll absolutely be dealing with the effects of regrowth and patchiness well into their first years. BABIES ARE A BLESSING!
In a post celebrating her son's first birthday in January, Graham wrote via Instagram that Isaac had "changed [her] life and heart in ways" she couldn't fathom.
"I can't believe I'm already writing this, because it feels like just yesterday that we met. But at the same time, I also can't remember what life was like without you," the A New Model author wrote in January. "Watching you grow and learn has been the greatest gift. … One year down and I can't wait to see where the rest takes us."
Since becoming a mom, Graham has kept it real 100% of the time. Last fall, she opened up about dealing with mom-shamers and trolls who show up in her social media posts.
"Mommy shamers are just mean girls who grew up to be mothers," Graham said during the candid discussion that also included Willow Smith, Adrienne Banfield-Jones, and Jessica Alba. "It never feels good to have someone tell you that you're not doing a good enough job, that you're doing something wrong."
Graham has regularly shared photos of herself while she breastfeeds her son, and, as a result, has received regular hate about her choice to "expose" her boobs for the sole purpose boobs exist.
"It's interesting because my whole career has been based around body shaming because I'm a curvy girl who has come into a skinny world, and said that my body, and other bodies like mine, need to be normalized," she said. "I knew that [mom-shaming] was coming and I was ready to combat it, but it never feels good to have someone tell you that you're not doing a good enough job, that you're doing something wrong."
Now if anyone dares to shame Ashley Graham for her postpartum Lloyd Christmas hair, I will personally fight them in the comments section with my own broken temple wisps of hair 18 months after the birth of my last child as they rattle with rage on top of my head.