Moms Applaud Ashley Graham For Sharing Her Pregnancy Weight Gain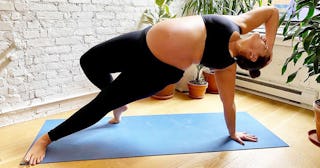 Ashley Graham/Instagram
Ashley Graham shared that she's gained 50 pounds during her pregnancy and other moms are here for her healthy attitude
Ashley Graham has been an absolute delight on Instagram throughout her pregnancy (which she adorably announced over the summer). Keeping it beyond real about the changes happening with her body and how she's staying fit and active as she grows a tiny human, we've come to seriously look forward to her every baby-related update. Now, she's sharing something most pregnant women might not be too open about — even though there's no reason to hide it. Graham told her Instagram followers how much weight she's gained so far, prompting fellow moms to applaud her — and talk about their own baby pounds.
"Throughout my pregnancy so far I've gained 50lbs. And the best part is, I don't care!" she writes. Nor should she, but also, hell yes.
" I have never felt better, and I am so thankful that my body and son have allowed me to be as mobile and flexible as I have been," she writes. "Between working out, yoga, acupuncture and lymphatic massages- I finally feel like I figured out this whole pregnancy thing and how to feel my best."
The evidence of Graham's happy and healthy pregnancy is clear with just a quick scroll of her Instagram. This woman is practicing what she preaches when it comes to loving your body and appreciating what it can do instead of obsessing over every little pound.
And trust that other moms have been noticing her amazing attitude. Their reactions to Graham's candid weight talk tell the whole story. They're. Here. For. This.
I gained close to 50 pounds with one of my kiddos and I wish I had Graham around at the time to make me feel better about it. There's absolutely nothing wrong with gaining several dozen pounds while growing a small person. In fact, it's totally expected and normal. But that doesn't change the fact that society is full of messaging about the "right" amount of weight for a new mom to gain, and most of that messaging isn't nearly as body-positive as the gems Graham puts out into the world. So instead of beating themselves up over gaining weight while pregnant, mommas should make like Graham and shout it from the rooftops.