Ashley Graham Announces Pregnancy And Shows Off Her Adorable Bump
by Valerie Williams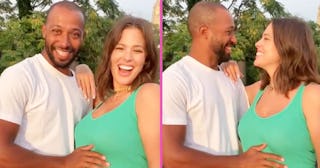 Ashley Graham/INSTAGRAM
Ashley Graham is pregnant with her first child and posted the cutest video to share the news
Model Ashley Graham and her husband of nine years, Justin Ervin, just posted something extremely exciting on her Instagram account. The couple are expecting their first child — and they shared the happy news by revealing her completely freaking adorable baby belly.
"Nine years ago today, I married the love of my life. It has been the best journey with my favorite person in the world! Today, we are feeling so blessed, grateful and excited to celebrate with our GROWING FAMILY! Happy anniversary, @mrjustinervin ❤️ Life is about to get even better," Graham captioned the video.
Graham and Ervin kept things simple with the announcement, first arranging the camera just right and then panning downward and happily exclaiming, "Surprise!" before bursting into the sweetest grins we've ever seen. Honestly, their love is so obvious and adorable we are melting into puddles.
She didn't reveal how far along she is, but if you check out recent photos from the couple's trip to the Amalfi coast, it's obvious that Graham was making efforts to conceal her growing bump.
Of course, she looks stunning in all of them. In my first trimester, I was proud if I put on deodorant and brushed my hair while Graham is out there serving lewks and literally glowing.
I mean, it's not even fair TBH. She looks amazing 24/7.
https://www.instagram.com/p/B0gHX_HAkEC/
Graham gave Vogue a sweet statement about her upcoming new addition. "Today on our ninth wedding anniversary, Justin and I couldn't be more happy to share the news that we are growing our family. Together we have received this beautiful blessing and can't wait to share our unconditional love."
Literal heart eyes over here. She's so excited we can feel it.
We hope Graham continues to give us the realness that makes us adore her as her pregnancy progresses. After all, she's already dealt with a troll who suggested she was expecting last year. Handled it like the total boss she is telling the commenter who said "baby bump" that it's "just called fat."
https://www.instagram.com/p/BlVVdiMHBax/?utm_source=ig_embed
Graham will need those amazing clapbacks as she continues her pregnancy and has her baby, because all moms know that no one gets more unsolicited advice than a pregnant woman or a mom. We have no doubt she's ready, but for now, we hope she's basking in the joy of her wonderful news. Congrats!
This article was originally published on