Ashley Graham Casually Pumps Breastmilk At A Fashion Show
by Cassandra Stone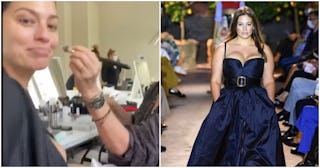 Instagram/Ashley Graham
Ashley Graham shows you can pump milk and be in a major runway event at the same time
Who says you can't participate in a Fashion Week show for Fendi and be a nursing mom at the same time? Certainly not Ashley Graham, who shared a video of her pumping breastmilk while getting ready for her big runway event this week. While most moms aren't fashion models, seeing someone like Ashley Graham normalize breastfeeding any chance she gets is the kind of content we all need.
Fendi's show in Milan this week marked Graham's first time back on the runway since giving birth to her son back in January. In her video of "backstage shenanigans," she's wearing a mask and saying "the show must go on" in reference to the pandemic.
https://www.instagram.com/p/CFfFmkbD_f1/
In the video, she winks at the camera and says, "Hair did, getting makeup done and pumping." Graham has shared many peeks into her breastfeeding journey with her son, Isaac, since he was born. And she's received a hell of a lot of flack for it from internet trolls clutching their figurative pearls over a mother feeding her child. Because BOOBS. Sigh.
"Mama is snatched for @etro SS21thank you to the whole team for feeling like family the moment I met you! i'm obsessed with my Sophia Loren look!!!!! bellisima Etro!!" she wrote in a caption for another photo, where she's walking down the runway in a gorgeous gown.
Graham has spent much of the pandemic quarantining in her family's home in Nebraska with her husband and child, so it's likely not much of a stretch to assume the glitz and glam of high-fashion Milan was a welcome change of scenery for her.
In an interview with TODAY in July, Graham talked about feeling zero shame about her body — specifically when it comes to feeding her son.
"I've never been embarrassed about pumping or breastfeeding," she said. "To me, my boobs seem like elbows at this point. If it was socially acceptable, I'd do it anywhere, any time, but I respect that it can make people uncomfortable and I realize there's a time and place for everything. I've had to normalize breastfeeding even to my own mom, because it simply wasn't something she did with us."