Ashley Graham Announces The Sex Of Her Baby On 'Ellen'
by Valerie Williams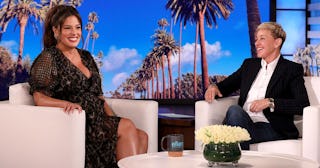 Michael Rozman/Warner Bros.
During a lightning Q&A session, Ashley Graham excitedly blurts out the sex of her first child
Ashley Graham shared the extremely happy news of her pregnancy this past August, and ever since, she's not exactly been shy in showing us her excitement — and growing baby belly. Now, she has huge news about the impending addition to her family with husband Justin Ervin, and she let the cat out of the bag during an appearance on The Ellen DeGeneres Show today.
"A boy!" Graham happily shouts. "I'm going to be a mommy to a boy. I'm having a boy." Try not to cry watching the pure freaking joy on her face. This woman cannot wait to be a momma, and it's the cutest.
This is Graham's first child, and we've loved watching her embrace her new role while also loving her new body.
She's been all over Instagram in the last few months letting fans in on the pregnancy process, which seems to be all roses so far. Like, she's quite possibly the happiest pregnant woman on earth.
She even vamped it up for Halloween by dressing herself (and her bump) as a crazy-sexy Jessica Rabbit.
But mostly, she's just seemingly loving this season of her life with Ervin as they wait to welcome their little man into the family.
She's also made sure to keep up her usual vibe of loving your body at any shape and size, which is an important message for pregnant women and new mommas to hear. All of those body changes can be amazing but also, a little weird to get used to. Seeing Graham celebrate the hell out of every new curve is downright inspiring.
"Getting bigger and bigger and trying to embrace my new body everyday. It's a journey and I'm so thankful to have such a supportive community," she wrote in a recent post. Hell yes, Ashley. That community is what every new mom needs, and it's great seeing her putting this positivity out there for all of us.
Graham, due in January, also revealed to Ellen that the pregnancy brain may be kicking in a tiny bit. "I have forgotten my phone number," she tells DeGeneres. "I was giving my glam my phone number and after she sent the six photos I realized I had given her the wrong phone number. And someone sent back a thumbs up and it wasn't me. So there's photos of me out and about in the world. At least I'm covered."
We can't wait for the tiny guy to arrive and for Graham to show us his sweet face along with her usual brand of empowering, positive, and funny thoughts.