Asia Argento Shares Bittersweet Photo Of Anthony Bourdain Two Weeks After His Death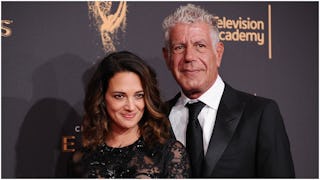 Image via Jason LaVeris/Getty
Asia Argento and Anthony Bourdain had been in a relationship since 2017
Two weeks after Anthony Bourdain died by suicide, his girlfriend Asia Argento posted a heartbreaking tribute on Instagram.
The actress/director shared a selfie of the two out on the ocean, smiling together. "Two weeks without you," she wrote.
https://www.instagram.com/p/BkVboT0nMzY/?taken-by=asiaargento
This is the second time that Argento has spoken publicly about losing her boyfriend. After his death, she took to Instagram to pen a loving, gutwrenching note.
"Anthony gave all of himself in everything that he did," she wrote. "His brilliant, fearless spirit touched and inspired so many, and his generosity knew no bounds. He was my love, my rock, my protector. I am beyond devastated."
https://www.instagram.com/p/BjxQJRLHYyI/?taken-by=asiaargento
Bourdain is known as an incredible chef and adventurer who brought cultures together through food and experience. But he was also a strong, vocal fighter for the #MeToo movement, and stood fiercely by Argento after she accused Harvey Weinstein of rape. While some men in Hollywood skirted the issue and offered unsatisfactory responses, Bourdain's voice was loud and fearless.
"In these current circumstances, one must pick a side," he wrote in a Medium essay. "I stand unhesitatingly and unwaveringly with the women. Not out of virtue, or integrity, or high moral outrage — as much as I'd like to say so — but because late in life, I met one extraordinary woman with a particularly awful story to tell, who introduced me to other extraordinary women with equally awful stories."
Not only did the chef unequivocally stand by his girlfriend and the rest of Weinstein's victims, but he also took a highly critical look at his own place within the movement.
"I had to ask myself, particularly given some things that I'm hearing, and the people I'm hearing them about: Why was I not the sort of person, or why was I not seen as the sort of person, that these women could feel comfortable confiding in? I see this as a personal failing," Bourdain told Slate.
https://www.instagram.com/p/BjRZxd1HeAx/?taken-by=asiaargento
https://www.instagram.com/p/BiAFXJOnBrY/?taken-by=asiaargento
There was never an ounce of doubt that Bourdain wasn't completely in awe of his girlfriend. "I am proud and honored to know you," he tweeted after the Weinstein story first broke. "You just did the hardest thing in the world."
This article was originally published on