Your Kids Can Now Watch Astronauts Reading Stories From Space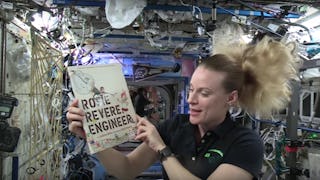 Image via Global Space Education Foundation/YouTube
Reading to kids is wonderful and everything, but reading to kids from space is super awesome
If you need to mix up your bedtime story routine a little bit, the Global Space Education Foundation has just the thing for you: Story Time in Space. It's exactly what it sounds like — astronauts on various missions in space read popular children's books while floating about, and the videos are edited and shared with kids way down on Earth.
The results are adorable as well as educational and inspiring. Check out astronaut Kathleen Rubins reading Rosie Revere, Engineer by Andrea Beaty and try not to get choked up at how amazing this all is.
The concept was developed by Patricia Tribe, the former director of education at Space Center Houston, and Alvin Drew, the first NASA astronaut to read a story in space for the program, during the final mission of the space shuttle Discovery. The pair were looking to find a way to encourage reading among kids while also promoting STEM education, and landed on the idea of having on-duty astronauts reading science-based kids' books, gravity-free.
Since the initial reading, all of the story times have taken place on the International Space Station, as it hurtles through nothingness at 17,500 miles per hour around the planet. It's only a guess, but this may be slightly more interesting than your kids listening to you feign excitement while reading The Mitten again.
"What better role models to engage kids in science and to engage them in reading?" Tribe told the Huffington Post. "You're not only looking and listening to the books, you're looking around the International Space Station."
Not only are does Story Time in Space aim to make reading out of this world, it also stresses the importance of diversity. Tribe and her team select books for a wide range of reading levels (though all can be read in 15 minutes or less) and from a wide range of STEM topics, from physics to engineering to biology. The group also selects a diverse set of astronauts to read the books, so that kids can see that people who look just like them can reach for the next frontier. For example, Japanese engineer and JAXA astronaut Koichi Wakata read Max Goes to the International Space Station in Japanese for the program this summer.
The Story Time from Space program is also expanding. The group is working on adding a set of nine simple science experiments for kids that were conducted from the space station, involving concepts like energy transfer and surface tension. In addition, more books are on the way, including A Moon of My Own by Jennifer Rustgi, The Rhino Who Swallowed A Storm by LeVar Burton and Susan Schaefer Bernardo, and Moustronaut by Astronaut Mark Kelly.
While those projects are being completed, Earthlings can enjoy the rest of the collection, which includes Max Goes to Mars, by Jeffrey Bennet, as read by astronaut Mike Hopkins.
Let's just hope that these awesome videos don't ruin regular books read in gravity, from the ground, by plain old mom who probably isn't even an astronaut.
This article was originally published on