The Eight People Who Died At Astroworld Range In Age From 14 To 27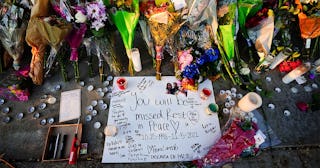 Alex Bierens de Haan/Getty
So far, eight people have lost their lives and 13 remain hospitalized in the aftermath of the mass casualty event at Travis Scott's Astroworld Festival in Houston on Friday night
As of Monday afternoon, so much is still unknown about the devastating crowd surge that caused at least eight fatalities and dozens of injuries at Astroworld Festival, a two-day concert headlined by Travis Scott in his hometown of Houston, Texas. As investigators look into the measures that were not in place to help protect the safety of the more than 50,000 attendees at the sold-out show, family members and friends of the eight known victims are speaking out on behalf of the loved ones they lost amidst the chaos — and their stories are utterly heartbreaking.
CNN reports that the eight victims range in age between just 14 and 27, and of the 13 that remain in the hospital with injuries as of Saturday, five are under 18 years old, as Houston Mayor Sylvester Turner told the outlet on Saturday evening. Scott's fan base certainly includes young kids, making the tragedy of each person killed and injured — and those who were able to walk away without physical injury but still with the psychological trauma of what they saw unfold — all the more harrowing as survivors and their loved ones are left to make sense of what happened.
The youngest victim, 14-year-old John Hilgert, was a baseball lover who attended Memorial High School in Spring Branch, Texas. Local Houston outlet KHOU reported that members of Hilgert's local community tied green ribbons — his favorite color — around trees on the school's campus in his honor.
Hilgert went to the festival with his friend, 15-year-old Robby Hendrix, with Hendrix's mother, Tracy Faulkner, telling the Houston Chronicle, "Everything about that night was a tragedy. John was a good student and athlete and so polite. He was the sweetest and smartest young man. They were both in the same place at the same time," adding, "one came home and one we will never see."
Brianna Rodriguez, a 16-year-old victim, was a dancer and member of the band at Heights High School in Houston, which tweeted in her memory. "Brianna was someone who performed with the band and was someone who could always make anyone smile," they wrote. "Although she's gone and she cannot perform with us anymore, we know she'd want to still enjoy our time in heights."
Two friends who attended the festival together lost their lives. The Daily Beast reports that Jake Jurinek, 20, and Franco Patino, 21, played football together at Neuqua High School in Naperville, Illinois, and stayed friends after graduating. They went to the concert to celebrate Patino's birthday, with Patino's father Julio telling the outlet he believed the pair died from cardiac arrest due to the crowd chaos. "I can't imagine dying that way," he said through tears.
Axel Acosta, a 21-year-old computer science major at Western Washington University, traveled to the show from Washington alone, with authorities struggling to identify him in the hours after the devastation. His family told local affiliate ABC13 it was difficult to file an out-of-state missing persons report with authorities in Texas.
Twenty-three year old Texas native Madison Dubiski also lost her life on Friday evening, with the Houston Chronicle reporting that she was a former varsity cheerleader who worked in marketing before her untimely death.
In a Facebook post, Dubiski's best friend Riley Dimeo paid tribute to her, noting that she "had a special way of making every single person she encountered in life feel special, appreciated, and accepted no matter what."
"I have never known such pure love and friendship until Madison came into my life and I'm not really sure how life will continue without her," Dimeo wrote. "If you were fortunate enough to know Mads you knew how beautiful, sweet, kind, generous, and loving she really was."
Rudy Peña, 23, was a criminology student at Laredo College, with his sister Jennifer Peña telling the Laredo Morning Times that her brother — a big Scott fan who'd traveled 300 miles to attend the Astroworld Festival — "was the sweetest person, friendly, outgoing, he had many friends because he was always there for everyone."
Danish Baig, 27, trying to protect his fiancée from the crowd, as his family shared, with his brother Ammar Baig telling People that he had a "huge heart," adding, "He would take care of everybody. He was basically the center that would bring everyone together. He was the funny one, the goofy one, the outgoing one. Our brothers and sisters have our own personalities, but he was the glue to it all."
These stories just magnify how deeply awful it is that these people died so young and so senselessly. Our thoughts are with their loved ones and with the thousands of other attendees now coping with what they experienced at the festival.