Atlanta Residents Cheer For Healthcare Workers At Shift Change In Viral Video
by Madison Vanderberg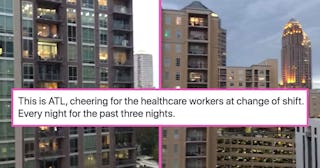 Dorri Buchholtz/Facebook
Thousands of apartment dwellers unite to cheer on healthcare workers in Atlanta at the change of shift
The coronavirus continues to spread across the United States, overwhelming the health care system and the resilient and selfless souls who work in them. As our world adjusts to social distancing and our changing health landscape, a group of individuals living in midtown Atlanta organized to show their local healthcare workers just how much they care.
Every night at 8 p.m. when the midtown Atlanta hospital staff changes shifts, the residents who live in nearby apartment complexes gather on their balconies to cheer on, applaud, and show the healthcare workers how appreciative they are for their work.
"This is ATL, cheering for the healthcare workers at the change of shift. Every night for the past three nights," CJ Palder shared in a Facebook video from her own apartment home.
The video shows, what we can only assume is thousands of individuals, collectively cheering for the healthcare workers down below.
"At 8:00 pm each evening, Midtown Atlanta comes alive with folks cheering for the health care professionals and first responders. I took this video from my balcony this evening," another Facebook user Murray Evans wrote alongside a video from a different vantage point.
People who live near hospitals were rallied online by the #Solidarityat8 campaign, which encouraged individuals to cheer outside at 8 p.m. as their local doctors, nurses, and health aids entered or exited their shift. This community action amid all the isolation is heartening to see. The solidarity is powerful.
https://twitter.com/jetpack/status/1241466797938872326
Atlanta, like many major cities, has been hit hard by the coronavirus. The Atlanta Journal-Constitution reports that there are now 1,525 confirmed cases and 48 deaths in Georgia, nearly doubling the numbers reported just three days ago, and health officials are worried that Georgia hospitals won't be able to treat everyone who becomes sick and needs to be hospitalized.
The current number of coronavirus cases in the U.S. is 68,440 with 994 deaths, though many experts claim the number is much higher considering how little testing our country has been able to administer.
Last week, French citizens shared similar videos cheering on healthcare workers, proving that although densely-packed cities are hit harder by the virus, they're the same communities that are able to rally in solidarity like this.
Information about COVID-19 is rapidly changing, and Scary Mommy is committed to providing the most recent data in our coverage. With news being updated so frequently, some of the information in this story may have changed after publication. For this reason, we are encouraging readers to use online resources from local public health departments, the Centers for Disease Control, and the World Health Organization to remain as informed as possible.