16 Baby Names Inspired By Fashion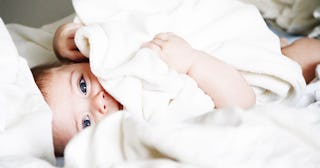 Michal Bar Haim/Unsplash
We know what you're thinking: baby names inspired by … fashion? And fabric?
Maybe you consider naming your kid after cloth a stretch (like Spandex, heh!), but think about how important fabrics are to, well, the fabric of our everyday lives. International textile trade influenced our very civilization. For centuries, people have built careers — nay, empires — on not only its manufacturing, but the styles that result. The textile and apparel industry is booming, having just experienced its biggest growth in six years. And nothing beats the feeling of a super-soft pair of leggings. Like buttah.
If baby names inspired by fashion still seem odd, consider one of the fastest-growing names on the Social Security Administration's baby name popularity chart last year …
That's right — people love their luxury brands, and whether parents are wearing it or just fantasizing about it, they sure are naming their kids after iconic designer Christian Dior. Dior was credited with almost single-handedly revitalizing the French fashion industry after WWII, and though he died in 1957, his fashion legacy is alive and well through his label.
RELATED: Lavish Names For Luxurious Little Ones
There's just something smooth about the name suede … maybe it's the sensory image of its velvety finish. Just five babies (all boys, though this could definitely be a unisex name) were given this name last year.
An Anglicization of the word "Kashmir," referring to a northern region of the Indian subcontinent, Cashmere wool comes from Pashmina goats native to that area. It's considered a luxury fabric, unsurpassed in its softness and warmth. As a name, it evokes a similarly luxurious feel — plus, it has the cool nickname options of Caz or Cash.
Speaking of nicknames, this one is also a great source for some good ones, like Dom, Nic, or Nico. And though it may not be immediately recognizable as a fashion-inspired baby name, its inspiration comes from a very recognizable brand: Domenico Dolce, one of the co-founders of Italian fashion house Dolce and Gabbana.
Stretchy, drapey, and flattering, jersey fabric is a friend to every comfort-loving person who's ever worn a T-shirt. And thanks to the new wave of place names (think less Dakota and Brooklyn, more Kairo and Austin), Jersey fits right in as a unisex baby name too.
RELATED: These Are The Latest Location Baby Names
Weaving, the art of intertwining yarn to make fabric, is considered to be one of the oldest crafts in the world; it dates back to the Paleolithic period, and has been an integral part of human history. If Weaver is a bit too literal-sounding for your taste, try the German cognate: Weber. Got a girl? Penelope comes from the Greek word for weaver.
RELATED: 14 New Name Possibilities That Come From Old Occupations
This name may not be as mainstream as some in the fashion industry, but we think Japanese designer Rei Kawakubo deserves a well-earned spot on this list. After all, she challenged conventional women's fashion to be comfortable and emphasize freedom of movement — which is reflected in the name of her clothing line, Comme des Garçons, meaning "like boys" in French.
The name Satin is great in and of itself (can we all just take a moment to appreciate how wonderful this fabric feels on your skin?). But adding the "e" at the end gives it a little more feminine flair … and lessens the probability that someone will mispronounce it as "Satan." Because, y'know … people.
There's a crisp and buttoned-down air about the name Oxford; maybe it's because it's a weave used to make crisp and buttoned-down shirts. We can see this one being a fantastic middle name.
Though he was tragically murdered in 1997, Gianni Versace's iconic label is still going strong thanks to his sister, Donatella. His birth name was actually Giovanni; Gianni is a diminutive, kind of like someone named John going by the nickname Johnny.
RELATED: 25 Variations Of John
This decidedly female-sounding name is derived from a Latin male name meaning "from Sidon" (a place in present-day Lebanon). So why is it on the list of baby names inspired by fashion and fabric? Because in Medieval Europe, it was (wrongly) believed to come from the Greek word for linen, sindon — and the name took off, its popularity booming in religious reference to the Shroud of Turin.
If you've ever had a favorite pair of jeans, why not try this unconventional name on for size? The word "denim" comes from the French phrase serge de Nîmes (meaning "fabric from Nîmes"). Want a less obvious tribute to the fabric? Try Levi! Or even …
He may have been known in the '80s for his jeans — his first pair, in 1974, grossed $200K in their first week of sales — but American fashion designer Calvin Klein's name is on many different things now, from clothing to perfumes to home goods.
Georgette is a sheer crêpe fabric, typically made with pure silk, known for its beautiful draping quality. It is named after French dressmaker Georgette de la Plante, who debuted the fabric in the early twentieth century. And thanks to the increased popularity of the name George since Prince George was born in 2013 — and the trend of old-fashioned sounding baby names — Georgette is right in line with the times.
RELATED: 14 Regal Names You Don't Have To Be Royalty To Use
Designer Sonia Rykiel was known as the "queen of knitwear" — but what we love most, knitwear notwithstanding, is the fact that her entire empire began with her need for a maternity dress. Pregnant in the early 1960s and unable to find anything she liked, she decided to make her own … a dress that accentuated, not hid, her beautiful baby bump. "I wanted to show the world how happy I was," she said in a 1976 interview with Newsweek. "My mother-in-law was scandalized, but my friends asked how they could find one like it."
Vivienne Westwood was a primary school teacher whose fashion credits were limited to the fact that she made her own wedding dress. But when her partner, Malcolm McLaren, became manager of the British punk band The Sex Pistols, she collaborated with him to design wardrobe for the band — and the rest is history. Sex and the City fans might recall that in the 2008 movie, Carrie Bradshaw chooses a Vivienne Westwood wedding dress.
Ideas for baby names can come from anywhere — including the clothes on your back, literally. And whether you're a sucker for Vogue and a tailored hemline, or just thankful for whoever invented sweatpants, you can agree that these baby names inspired by fashion and fabrics are designed to be wearable in the real world. And maybe, someday in the future, on a runway.
Need more baby naming ideas? Scary Mommy Baby Names to the rescue! Find fun lists, a baby name database, advice and more!
This article was originally published on