25+ Chinese Girl Names So Pretty Your Heart Will Melt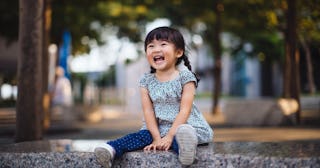 Tang Ming Tung/Getty
Naming a baby is always a struggle. Many parents go into the delivery room still struggling to lock down the perfect moniker for their babe-on-the-way. In the Chinese culture — like in so many others — new parents actually get a lot of help… though it can still be an arduous process. Why? Chinese tradition has parents work with astrologers to choose names for their children that work well with the sign they're born under and its element. In Western culture, most babes are given three names — their first, middle, and last names. Just like westerners look to capitalize on syllables and sounds that sound nice together. Similarly, Chinese naming traditions use a surname (written first) and are usually followed by two given names. As you may already know, writing in Chinese is an artform. Part of the naming process also requires that all three name symbols flow together harmoniously.
If ever you needed proof of how seriously naming is taken in Chinese culture, consider the following. One well-known old Chinese saying translates to, "Instead of giving your child gold, teach him a skill. Even better than that, bestow a good name upon your child." That's right. It is so serious, in fact, that Facebook founder Mark Zuckerberg actually reached out to Chinese President Xi for help naming his soon-to-be-born daughter. Even more telling: President Xi refused on the grounds that it was too big of a responsibility. Fret not, Mama. There are multiple ways to get help. Not only are there actual experts you can hire to guide you through this task, there are usually people at the local temple who are also gifted at choosing harmonious names.
Of course, not all Chinese-Americans follow this traditional naming regimen. This is especially true if you're combining two (or more) cultures. Still, if you have Chinese roots, you might be drawn to giving your sweet baby girl a name that represents and honors her heritage. We scoured our database and found some truly lovely and meaningful Chinese girl names that would work well together or possibly blend well with a name from another culture.
It's also totally possible that you will take a look at this list of Chinese baby girl names and decide none of them will work for you. You have roughly nine months to change your mind. And change it a million times, if you want or need. It's also okay to pull a name from unusual sources. Maybe you want to explore a name that seems to better fit a Pisces baby. Or, perhaps, your love for Halloween is steering you towards a "witch" name or "fall" name. There are just so. many. options. out there, right? And, great news: They're all valid. Whatever name you decide on, we're sure she'll grow into it perfectly. All babies do.
Quotes To Inspire Your Choice
"'So you do healing?' 'Of course. What do you think witches do? As I said, we heal, cast spells, tell fortunes, connect with nature. We celebrate life… and of course death as well, the other side of the coin.' She downed more win, then added, 'We're women of power, and we'll make you one too.'" — Mingmei Yip, The Witch's Market
"I have long been aware that when an independent intellectual stands up to an autocratic state, step one toward freedom is often a step into prison. Now I am taking that step; and true freedom is that much nearer." — Liu Xia
"Don't let what he wants to eclipse what you need. He's very dreamy, but he's not the sun. You are." — Cristina Yang, Grey's Anatomy
Need more baby name ideas for your little tot? We've got comprehensive lists for middle names for boys, middle names for girls, one-syllable names, unique names for boys, unique names for girls, last names as first names, nicknames as first names for your little Ace, and so much more!
An
Bao
Hua
Hui
Ju
Jun
Lee
Lee
Lian
Ling
Mei
Meiying
Ming yue
Mingmei
Nuan
Nuwa
Ru
Shu
Shu
Sying
Tao
Ting
Xia
Xiao
Xiu
Yang
Yenay
Zhen
This article was originally published on