Fab Four-Letter Names For Boys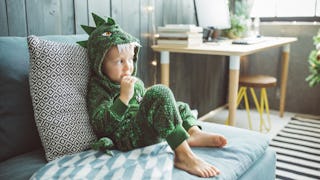 svetikd/Getty Images
Four letter names for boys can't be beat — there's a lot to be said for names that can make an impact in just four short letters. A name doesn't have to be 14 letters long to be amazing. Sometimes the shortest ones pack the most punch and four letters can do the trick. We've gathered all the mighty mini names as we could find, so if you're looking for a cool succinct name, we have the list for you. Sometimes all your kiddo needs is something simple and to the point, which doesn't mean it's basic or takes away from how beautiful their name is. And when your little one begins to learn how to write and spell their name, it'll be a breeze. They'll save so much time and even finish their tests early. And when they graduate from an Ivy League, they'll thank you for giving them such a practical name.
RELATED: How To Teach Kids To Read: Parent's Guide For Teaching Literacy
Long names are cool but they're not the key to standing out. Sometimes a short name is enough. A lot of personality can fit in four letters and this list is proof that short names can be just as prominent and memorable. When your name is brief or one syllable, it's easier for people to remember and make for way shorter email domain names. Ever get an email from someone with a long name. You tend to think they're more suspicious, and may even run it through a search engine to cover your bases.
With a four letter name, you won't even need a nickname. They're also harder to misspell and mispronounce, which is great for their school years. Shorter names are also deemed more authoritative and they're way easier to turn into a brand name.
But seriously, they make fantastic counterpoints to longer last names, or can sit pretty as a middle name for boys while still exuding strength and a unique spirit. You're not the only one in your search for a short and sweet name for your baby boy. In fact, according to the most recent search data available, those names are searched for nearly 1,900 times per month. These are some of our favorite 4-letter names for baby boys!
Need more baby name ideas for your little tot? We've got comprehensive lists for unique names for girls, last names as first names for boys, nicknames as first names for your little Ace, and so much more!
Naming a baby can be scary. We can help! Check out our baby name database here.
Quotes to Consider
If you're looking for further inspiration to give your baby boy a four-letter packed name, consider these wise words by famous figures with the same amount of letters in their own monikers.
"Art is dangerous. It is one of the attractions: when it ceases to be dangerous you don't want it." — Duke Ellington
"When something is important enough, you do it even if the odds are not in your favor." — Elon Musk
Aada
Abel
Abha
Abir
Adam
Adan
Addy
Aden
Alan
Aldo
Alec
Alex
Alto
Alva
Amal
Amir
Amos
Andy
Ares
Arie
Arlo
Aron
Aven
Axel
Ayan
Aziz
Bear
Beau
Beck
Beta
Beto
Billy
Blue
Bode
Bram
Brio
Bryn
Buck
Burr
Cade
Cael
Cain
Carl
Carr
Cary
Case
Cash
Chad
Chip
Cian
Clay
Coda
Cody
Coen
Cole
Colt
Cory
Cove
Cree
Crew
Cruz
Dale
Dana
Dane
Dash
Dean
Dell
Desi
Dior
Dove
Drew
Duke
Earl
Eden
Elan
Elio
Elon
Emil
Emir
Emre
Emyr
Enzo
Epic
Eric
Erik
Eury
Evan
Ewan
Ezio
Ezra
Fila
Finn
Ford
Gael
Gage
Gary
Gene
Glen
Gray
Grey
Hank
Hans
Hart
Hawk
Hemi
Herb
Huck
Hugh
Hugo
Igor
Iker
Imre
Indy
Isai
Ivan
Iver
Jace
Jack
Jago
Jake
Jase
Java
Jaxx
Jazz
Jens
Jess
Jett
Joah
Joel
Joen
Joey
John
José
Juan
Jude
Kace
Kade
Kale
Kama
Kane
Kase
Kash
Kaui
Kaya
Keel
Kely
Kent
Kian
King
Knox
Kobe
Koda
Kody
Kurt
Kyer
Kyle
Kylo
Kyro
Lake
Lane
Lark
Leaf
Leif
Leon
Levi
Levy
Liam
Lian
Link
Loan
Loki
Luca
Luis
Luka
Luke
Luma
Lyle
Lynx
Mack
Marc
Mark
Mars
Meir
Mica
Mick
Mihr
Mike
Milo
Moss
Musa
Naji
Nash
Navy
Neil
Nero
Nico
Niko
Nilo
Noah
Noel
Noon
Nova
Odin
Omar
Onyx
Otis
Otto
Owen
Park
Paul
Penn
Pike
Poet
Puma
Quill
Rabi
Rafe
Rain
Rally
Rani
Raul
Read
Reed
Reef
Reid
Remy
Rene
Rhys
Rick
Riot
Rome
Rory
Rory-unisex
Rowe
Rudy
Rumi
Ryan
Sage
Saul
Sean
Seth
Shay
Shea
Shel
Siôn
Snow
Solo
Tate
Teal
Theo
Thom
Thor
Toby
Tony
Trey
Troy
True
Vano
Vesa
Vlad
Voss
Wade
Wells
Will
Wolf
Wynn
Yael
Zaid
Zane
Zayd
Zayn
Zeke
Zeus
Zion
This article was originally published on