Yes, You Need To Cancel Your Baby Shower — WTF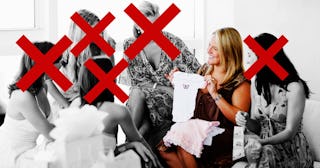 Julia Meslener for Scary Mommy and Kevin Dodge/Getty
Okay, full disclosure: I hate baby showers. Like, I emphatically despise the whole thing. The only baby shower I've ever enjoyed was for a friend having a baby via surrogate. No pregnant lady and lots of booze. All the rest of them feel like torture. You're forced to make small talk with your friend's great-aunt while eating from a lukewarm cheese plate. It's exhausting to watch the mother-to-be open presents. I mean, really. How many times can you fawn over onesies before you just can't anymore? Newsflash, no one wants to attend your baby shower in the middle of a global pandemic.
In-person baby showers are not a thing that needs to happen right now. Let's leave the stale cake and forced cheer back in pre-COVID 2019 where it belongs. It hardly seems fair to ask people to risk their health on a baby they may not even get to see for a while. Because you won't want a sick person around your baby, right? And if you're not willing to risk the health of your newborn to meet everyone, why are you okay with killing great-aunt Muriel to get a "cake" made of diapers?
Whether you like it or not, we're still in the middle of a pandemic. One that is pretty aggressively killing people. And the longer it drags on, the more we know that no one is safe from catching COVID. At this point, people are doing various forms of quarantining for their own reasons. Some people are still almost completely in lockdown mode. Others may only be leaving for very specific instances. But just because your friends and family are going to work or shopping at Target doesn't mean they're down for a gathering. Hell, even if they're seeing other people socially, there's a difference. Going to a socially distanced dinner and dining on the patio is way freaking different than a baby shower in someone's house. And if you allow those people into your space, you're literally opening the door for infection.
Call me crazy, but I can't imagine potentially exposing myself to a life threatening sickness for burp cloths. That seems incredibly idiotic. Sorry, I don't make the rules. There is enough data out there to show that if a pregnant woman contracts COVID, it's going to really suck. The Centers for Disease Control (CDC) is tracking how COVID affects pregnancy. And let me tell you, it's not pretty. According to the CDC, pregnant women who contract COVID are more likely to end up in the hospital. And what's more, they're at an increased risk for ending up in the Intensive Care unit. Additionally, that extends to the chances they'll be on a mechanical ventilator.
"Pregnancy does appear to make women's bodies more vulnerable to severe COVID-19, the disease caused by SARS-CoV-2. That's partly because of pregnant women's uniquely adjusted immune systems, and partly because the coronavirus' points of attack—the lungs and the cardiovascular system—are already stressed in pregnancy," explains an article from Science magazine.
As of right now, the CDC data is showing that pregnant women are no more likely than non pregnant women to die from COVID. Between January 22nd and September 1st, 2020, they tracked a total of 20,216 cases of COVID in pregnant women. There have only been 44 deaths. As of right now, there isn't a lot of data on how the sickness passes to the fetus. Until there's conclusive data of how it's affecting fetuses, the smartest thing is to avoid unnecessary chances of transmission. A baby shower seems like an unnecessary chance — or at least it should.
Look, no one is saying people shouldn't have baby showers at all. What we're saying is that having a bunch of people in an outdoor space to celebrate seems unwise. There are too many variables to pull it off successfully. Even if people are getting tests, things can change. And as we've seen, people aren't making the best choices when it comes to COVID. So who's to say that your cousin Karen hasn't been at Walmart without a mask on? But then she's so excited to give you your gift, she comes to your shower and unknowingly gives everyone COVID? Then you're super sick, and for what? A bouncy seat? How is that worth it?
If you really need to have an in-person party, someone I know went to a drive by baby shower. You can wave from the porch or the window, and people just drop off gifts. This way, you don't have to hear people complain about not being able to see you. But you don't have to see them.
Lest you forget, virtual parties are a thing. People are doing all sorts of celebrations on Zoom or Google Meet. So you can still have baby showers without risking anyone's health. And think of it this way, if you have a Zoom party, there's no one to clean up after when it's over. Plus, no one will know if you're not wearing any pants because you're so fucking uncomfortable. See? A virtual baby shower is starting to feel more appealing isn't it? No pants, no annoying people touching your stomach, and you can eat the entire cake if you want to! What could be better?
Baby showers are supposed to be a fun, low stress celebration. We definitely need fun right now, but we also need to be safe. You should absolutely celebrate your new baby. Being pregnant in a pandemic is the actual worst, and we all need joy. But that joy shouldn't come with a price. Right now, the most important thing is that everyone, especially you and your baby, stay safe and healthy. No one would be mad if you cancel. And if they are, they're the asshole, not you.
This article was originally published on