Bachelor Nation Demands Justice For Kelley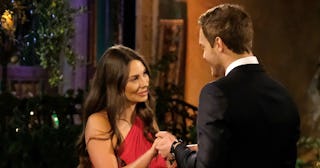 ABC/John Fleenor
Kelley didn't make it to the end of The Bachelor, but there's already a push for her to be our Bachelorette
During a Bachelor season full of intense drama and fewer-than-normal really lovable contestants, there's one woman competing for Peter Weber's heart whom viewers have rallied behind since the early episodes: Kelley, the Chicago lawyer who has been realistic and down-to-Earth all season — and, more importantly, completely willing to call Peter out on his bullshit.
Kelley rocketed into fan-favorite status when she had a one-on-one date right in the middle of the petty drama that made this season almost unwatchable — and she used her alone time with Peter to question whether he was ready for a serious relationship, since he was encouraging the drama so much.
But Kelley was just as pragmatic about her relationship — and finding love in an environment like The Bachelor — and we probably should have known that meant she was doomed. Consider her thoughts on the show's process from early in tonight's episode.
"We're at a point where we're still getting to know him and it's hard to give him that absolute reassurance," she said.
It's a perfectly reasonable thing to say about the guy you've been dating for all of a few weeks, but considering several women have confessed to Peter that they're falling in love with him (and he's admitted he's falling in love with some of them), we should have known poor Kelley, with her realistic view of the whole Bachelor process, didn't stand a chance.
Kelley ended up on the episode's three-on-one date, along with Victoria F. and Hannah Ann. She was confident going in, as she should have been. She's an attorney who has her life impressively together — who wouldn't consider her a total catch?
Well, Peter, apparently. It's just the latest in his long series of decisions we don't understand. Hannah Ann wrote Peter a list of things she loves about him, and predictably, it melted his cheesy little heart. And Victoria F. had a full, crying meltdown on the date, and it's a running joke among Bachelor Nation that as soon as he sees tears, Peter reaches for the roses.
Kelley and Peter seemed to have a perfectly good conversation, but he was annoyed that she described their relationship as "fun." In fact, he told her he "hated" that. Kelley, just another sign that this is not the right guy for you. He is way too into the drama. Relationships should be fun, and the fact that Peter seems to actively want love to be difficult is kind of a red flag.
So, by the end of the date, it wasn't all that surprising that Hannah Ann and Victoria F. got the roses, and Kelley was sent on her way. Still, though, the fact that we all saw it coming didn't really soften the blow for Bachelor Nation.
#Justice4Kelley. Let's get it trending, Bachelor Nation.
Anyway, we still have one hope left to get Kelley back on our TV screens on Monday nights.
After this season, please give us someone mature, put together, and who knows what she wants for Bachelorette. Someone like Kelley. OK, thanks Bachelor producers, bye.
This article was originally published on