The Bachelor's Peter And Madison Already Broke Up
by Christina Marfice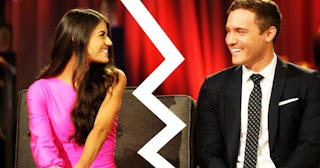 Scary Mommy and John Fleenor/ABC
Anyone who watched The Bachelor finale will not be surprised by this news
In news that has shocked exactly no one who watched the most recent season of The Bachelor, Peter Weber and Madi Prewett just announced their breakup. The season was full of twists and turns, and ended with Peter engaged to a different contestant, Hannah Ann Sluss. On the live finale show, however, it was revealed that Peter and Hannah Ann broke up after filming, and that he and Madi were (tentatively) back together.
But in separate Instagram statements, Peter and Madi just announced, barely 48 hours after getting back together on the live show, that their Bachelor romance is officially over.
"Madi and I have mutually decided to not pursue our relationship any further. Believe me this was not easy for either of us to be ok with, but after a lot of honest conversations, we have agreed that this is what makes most sense for the two of us. The love and respect I have for Madi will continue to endure," Peter wrote, before going on to add a message to Hannah Ann. That's not surprising for those of us who watched the show, but still, awkward.
In her statement, Madi wrote, "As Peter and I have decided to go our separate ways, I am confident that we will both move in the direction of our purpose and never forget that God has a plan in all things. I will always love and respect him. I am convinced our paths were meant to cross and we are both better because they did."
https://www.instagram.com/p/B9qPQxKnm3P/
These two were basically doomed. As we saw during the live Bachelor finale on Monday and Tuesday this week, Peter's family hates Madi. I mean, they loathe her. It's not super clear why, but they were not OK with those two being together, and they made that abundantly obvious not just to the couple, but to all of America on live TV. There was a moment during the finale when, after attacking Madi for a good 10 minutes, Peter's mom Barbara stonily announced that her son was going to "have to fail to succeed." Who says that about their own kid's relationship?
And news has been coming out all this week about how Peter's brother, Jack, has been just eviscerating Madi in his Instagram comments.
We don't know exactly why the Webers have so much vitriol toward Madi, but all I can say is if my potential in-laws treated me like this in private, I would head for the hills. If they did it publicly, like Peter's family is doing, I would be absolutely embarrassed and leave that red flag parade as quickly as I was able to.
This season of The Bachelor has been a pretty unprecedented dumpster fire, so all we can do is look forward to seeing Clare Crawley kill it as the next Bachelorette. I'm also currently taking bets on whether Peter will show up on Paradise. Guess it will depend on whether his family allows it.