The Word 'Like' Was Said 229 Times In The Latest Episode Of 'The Bachelor'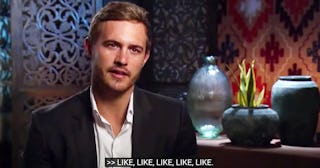 Jimmy Kimmel Live/Youtube
Ever notice how, like, The Bachelor's Peter Weber and his hopefuls say "like"… like, a lot? Jimmy Kimmel sure did
Listen, we've all got our things. Our quirks. It just so happens that the word "like" is often on The Bachelor. And by often, we basically mean all the time. While the word has almost certainly always been in frequent rotation at the mansion, it seems to be much more prolific with Peter Weber's current crop of love interests. So, Jimmy Kimmel did the only sensible thing: He counted how many times "like" was used in one episode and made a video montage showing a mere yet mind-blowing portion of those usages.
Discussing this week's installment of the reality dating franchise, Kimmel cued up the clip on Jimmy Kimmel Live, saying, "This was also maybe the most dramatic episode yet for the word 'like.' By our count, there were 229 'likes' on tonight's show. Which is, like, ridiculous, especially when you line them up. This is just a fraction of the 'like-ning' storm that Bachelor viewers were forced to endure this evening."
Granted, it's not as though "like" isn't a part of everyone's lexicon. If ever there's a study made to gauge how often the average person uses it, we do not volunteer as tributes. Still, sometimes bad habits are perpetuated because we just don't realize how bad they've gotten. So, maybe seeing this little edit will inspire the ladies of Weber's season (not to mention Weber himself, or the rest of us for that matter) to realize they're turning "like" into a decidedly overused four-letter word.
Since they didn't see the montage while filming, though, you can probably count on "like-ning" striking the same place twice. After all, we're only a week away from hometown visits, meaning Pilot Pete's final four contestants — Madison, Hannah Ann, Kelsey, and Victoria F. — will be bringing him home to meet the parents in Alabama, Tennessee, Iowa, and Virginia, respectively. Nerves will be out in full force, so the "likes" likely will, too.
But statistically speaking, the number of "likes" used each episode of The Bachelor should drop proportionately to the number of contestants. So, as Weber continues to whittle down the women to find Mrs. Right (or Mrs. Right for the Live Finale), viewers' ears will be assaulted with far fewer instances of this particular four-letter word.
Although, it will be an interesting case study to see if the ladies come by their use of "like" honestly. Will their families skew the ratio? Is "like" just something we all need to, like, learn to ignore or accept as a mainstay of the modern vernacular? Stay tuned.