A 'Bachelor' Theory Says Peter Will End Up With One Of The Show's Producers
by Christina Marfice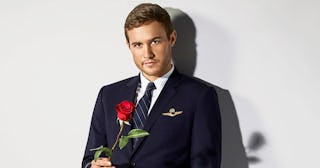 Maarten de Boer/ABC
ABC has already responded to this Bachelor theory, and they didn't deny it
Since before Peter Weber's season of The Bachelor even started airing, he and host Chris Harrison started making a pretty bold claim: This will be the first unspoiled season of the show. Considering we live in the age of social media and the internet, people wondered how it was even possible that a reality series that films in public locations could go off with no spoilers. But we're now down to the final four, and the winner hasn't actually been spoiled yet. Fans have one wild theory as to why.
Some Bachelor Nation sleuths presented a theory online over the weekend that says the ending is spoiler-free because Peter does actually find love, but not with any of his contestants. Instead, people are speculating that he ends up with one of the shows producers, named Julie LaPlaca. And yes, there are receipts.
It's not unusual for Bachelor producers and contestants to become friends — after all, they spend months filming and traveling and basically spending every waking moment together. But LaPlaca and Peter seem to be especially close — peep this photo that Peter's dad shared on Instagram of the whole Weber family and Julie LaPlaca out to dinner together.
And then there was this rather incriminating photo LaPlaca posted of herself in New York on New Year's Eve — just after filming for Peter's season ended. See that head right behind her to the left? That is undeniably Peter.
To further fuel the flames of this theory, Peter's ex, Hannah Brown, commented on LaPlaca's photo, saying, "This is really cute, Jules. I approve." What is she approving of, exactly? Could it be LaPlaca's secret relationship with a certain Bachelor?
As this theory went viral, it of course reached the ears of ABC execs, who addressed it, but didn't outright deny it.
"Well, I hate to get in the way of a good rumor, so I'm not going to confirm or deny about whether he ends up with a producer!" ABC senior vice president Robert Mills told Entertainment Tonight. "I don't know how we'd ever top that though!"
Unfortunately, this theory is incredibly unlikely to be true, and the proof of that is right there in the supposed evidence. If Peter and LaPlaca were secretly dating, there is no way ABC would allow Peter's dad to post that picture of them together, or LaPlaca to post that New Year's Eve shot, or Hannah Brown to comment on it. The network just has too much of an investment in keeping the ending of The Bachelor secret. Sure, there's an argument to be made that Peter and LaPlaca are hiding in plain sight, but I don't buy it. I just think the network is more careful than that.
Still, if the odds are defied and this turns out to be true, Peter's season will go down as one of the most dramatic in Bachelor history, just like Chris Harrison promised us.