This 'Bad Lip Reading' Of Biden & Trump Is The Election Cycle Laugh We Need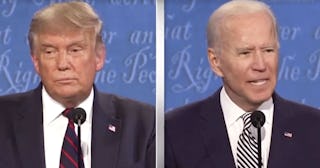 BadLipReading.com
Prepare to die laughing at this Bad Lip Reading of the first presidential debate
If you suffered through watching the first debate between Donald Trump and Joe Biden, you know the last thing you'd want to do is go back and actually rewatch it. But add a little bad lip reading treatment and it becomes something to behold.
If you've never seen the Bad Lip Reading series, the YouTube channel is exactly what it sounds like. It takes major events like the royal wedding, the State of the Union, NFL games, and dubs in what they could be saying in an alternate universe. The results are a random mix of thoughts and words timed perfectly with hand gestures and mouth movements to make for quite an entertaining moment.
If it's possible to make Chris Wallace seem more flustered than he was on the actual night, this video hilariously does so. To give you a flavor of how it's going to go, Wallace starts out by asking the hard hitting question, "Where should I stick it?" to which Trump answers, "In the trunk." Not to be outdone, Biden's lips read: "I'd stick it in the lasagna." Alrighty then.
The trio carry on about a phone that only Biden can hear ringing, a hand puppet named Binky, and "butt chunks" (trust me when I say that once you've seen the new version, you'll never be able to unsee it), they get right into the first game segment of the night called, "Five Favorites." Did you know Trump's favorite place to meet circus performers is a "Clown Shed?"
Not to be outdone, Biden also took a turn and apparently his favorite meat is "Penguin" which is a bit concerning from an environmental perspective, but we'll let it slide since this truly is fake news.
After Wallace orders a whiskey from the crew, they are back in business.
After some more discussion about Sinbad's hole, pagers, and the difference between icing and frosting, we get to another video round. This time it's called, "Time to Act." This is when (I believe) they act out different scenarios and say the first thing that comes to mind but I'm not high right now so it's really just a guess.
All of this is done with voice inflections and video editing that cannot be compared to anything else on the market. That's what makes this so incredible. They can actually turn something that was painfully hard to watch the first time around and make it a truly entertaining way to spend ten minutes of your day.
Lucky for us, we have less than a week until the election and don't have to sit through another presidential debate until 2024. The bad news is we will not be gifted with the talented Bad Lip Reading during this election cycle again. Here's hoping they do a follow-up of election night (and day and night and day). I think we could all use more laughter right about now.